It's time to get your RPG on Android. Here are the best new games in the genre that you need to play! Best Android Action RPG Games is a list of top-rated RPGs that can be played on an Android device, with links and brief descriptions for each one. These games feature everything from turn-based combat and exploration, to intense boss battles and character customization options. There is something for everyone!
It's been a long time since the best Android action RPG games have been released. With this list, you can be sure to find something that will keep your attention for hours on end!
The following list includes some of the best new action RPGs released this year:
The game is in the Closed Beta phase.
You've never seen an ARPG quite like Torchlight: Infinite. Vanquish hordes of demonic creatures in beautifully realized environments, all with the swipe of your finger.
Torchlight: Infinite is the latest installment in the critically acclaimed Torchlight series. It features beautiful, cel-shaded graphics and seamless multiplayer action. With hordes of enemies to vanquish and plenty of loot to collect, Torchlight: Infinite is sure to keep you entertained for hours on end.
Play as one of three heroic characters, each with their own unique abilities and skillsets.
Customize your character to your heart's content, choosing from hundreds of powerful weapons and items.
Battle through randomly generated dungeons for hours on end, or take on challenging boss fights that will put your skills to the test.
With its tight controls, immersive gameplay, and stunning visuals, Torchlight: Infinite is poised to be one of the best ARPGs on Android.
With touchscreen controls that are responsive and easy to use, you'll be able to navigate your way through this vast and fantastical world with ease. From the lush green forests to the snow-capped mountains, there's something for everyone in Torchlight: Infinite.
MARVEL Future Revolution is a very cool game for mobile phones. It has very high quality graphics that are way better than other games. The game has scenes that look like movies, and it also has great fighting scenes.
This game has a story, and there are backstories for multiple characters. The graphics are good if you have a high-quality phone that can handle them the best.
The game features a huge world for players to explore. And you can play with other heroes in an original, fully realized Marvel universe.
Marvel comics are based on original stories. You can play as any Marvel SuperHero. You can also enjoy captivating gameplay with endless storylines and missions. Join Omega Flight to save Primary Earth from the threat of the Convergence!
You can be your own Super Hero. You can mix and match parts of different costumes that are inspired by decades of Marvel comics and films. Choose parts that you like best!
From the makers of Final Fantasy, NieR Re[in]carnation is a command-action RPG for mobile devices.
The game is a high-quality RPG experience from Yoko Taro. This is a free gacha game. It has some things that people might not like. But it's still fun to play. Some things are paid for, but there are also free things too.
This is a game for people who like the series. It has music and an interesting story that tells about the history of weapons. The balance in the game is good, so it is not hard to play all the time.
Story
There is a place called The Cage. A girl wakes up on the floor and she finds herself in an infinitely large place with buildings that touch the sky. Mama helps her explore her surroundings. She starts out to find what she lost and tries to atone for her sins.
Characters
The Girl of Light: The Girl of Light woke up on the ground. She was in a place called The Cage and didn't know why she had been put there. But she had a bright personality and her dreams were not always bad.
Mama: Mama is a strange creature who knows something. She helps the girl find The Cage.
The Dark Monster: The Dark Monster is a strange being that wanders through the Cage. It is like a knight, but it also looks like an insect. It has a goal and you must solve the puzzle to find out what it is.
Battle
In this game you can use commands to tell your character what to do. There is also an auto mode where the computer will handle everything for you. It is made for beginners to enjoy the game.
Slash of Sword 2 is the perfect sequel to a game that was already excellent. The graphics have been improved, there are new levels and an exciting storyline!
You will play as someone who were accused of a crime you didn't commit, and as punishment you had to fight in the arena. There are many difficult fights that will make you bleed. You need to learn skills so that you can fight better, and explore locations and interact with characters to find out who did it.
The decisions you make in this game will depend on what you want. In this game, you decide about if it is necessary to help a robber or not. When spotting a treasure, you might wonder to take it or find the owner and give it back to him. Maybe you let a girl go with the robber who kidnapped her, or deal with him and return the girl to her father.
The combat will be a bit of challenge. You need to do a lot of things in this game's tactical combat system. You need to choose when you will attack, and also when you will block or dodge if necessary.
If you've ever played any free-to-play games, then I'm sure you know that earning in-game currency is difficult. And if the progress is slow and there's an imbalance often seen in mobile games? Well, all of this points to one thing: In app purchases are your only hope for progression. That's the only bad things about Slash of Sword 2.
Action lovers, this is for you. Cyberika is an exciting game packed with action to chase your blues away. The game follows a storyline set in the Cyberpunk universe. Cyberika requires you to explore a distant city called Bradbury Complex whose inhabitants might not be very welcoming. This advanced civilization has its cities lit with neon lights, but there are also nightmarishly dark backstreets you have to fight through. Complete each quest by outwitting their battle tactics and fell their freaky punks. Though technologically advanced, Bradbury Complex is also impoverished and the police are powerless, it's simply no place for the weak.
Cyberika's design and graphics are on another level. The diverse characters and upgrade options make this game the ultimate action adventure this April. Additionally, its sound waves are unmatched; every minute of adventure comes with exponents of synthwave, retrowave. You will also get an opportunity to use a magic sword, power glove among others. That is not to mention the incredible with your sports car which allows it to out-speed virtually every chase. Get more details about those by downloading it today and you'll surely have a memorable gaming experience.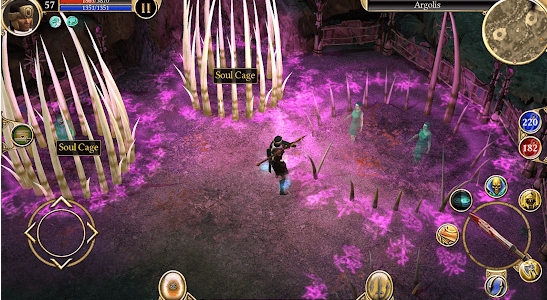 Since its release in 2006, Titan Quest has captivated lots of RPG fans. This mobile port offers all DLCs and patches, so you can enjoy an exciting adventure in the game world of Titan Quest. You'll explore new places and fight against enemies in thrilling battles, all while enjoying amazing graphics that make the experience even more immersive. The storyline is captivating and will keep you hooked for hours on end.
You can play the game on PC, iOS, and Android devices. This mobile port includes all DLCs and updates, so you may delve into a thrilling adventure in the world of Titan Quest.
This 3D shooting game is based on a fairy tale story and is played by a maximum of 4 players. You are required to cultivate your characters and skills to deal with a fatal blow to the enemy. The player can change the appearance of their characters to make the game exciting and make them more suited for the task. You can combine magic and classes to boost the strength of your characters.
A game came out that is based on a fairy tale story. It is called Gate of Mobius and you can play the game on your phone with up to 4 people. You can have friends play with you and try to get through different levels. The game has powerful enemies, but you can fight back by using skills from your favorite characters!
Players who have a character in the game can change how their character looks. They can buy costumes to make their character look different. Players also get to develop and strengthen their characters by choosing what skills they want them to have. They can choose from 5 different professions, Hunter, Knight, Mage, Ranger and Alchemist.
You can get precious armor after the mission is complete. Wear the best armor to complete your mission.
After you finish a chapter, you can unlock new characters. Read the story of fairy tales and learn about what happens in their world! Then go on an adventure with them!