There are many apps that you can download and use to create 3D models for your project, but which ones are the best? You want a program that is easy to use and has a variety of features. Here's our list of the top five 3D model maker apps for Android!
You can find out more about these programs in this post. Let us know what you think by leaving comment below!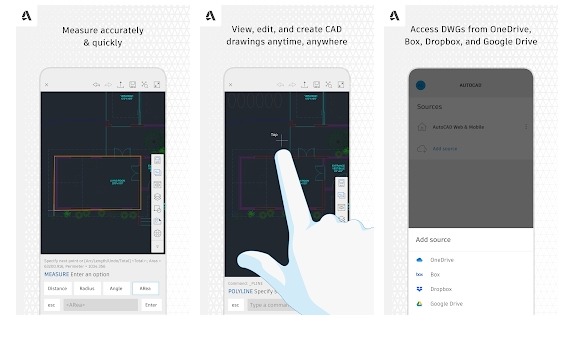 AutoCAD mobile is a DWG viewing and editing app with easy-to-use drawing and drafting tools. Simplify your site visits with the most powerful CAD app and do real CAD work on the go.
AutoCAD mobile has many options for importing, opening, viewing, saving and printing information from drawings to maximize your productivity time. Create all types of drawings including RFIs, detail views of existing structures in three dimensions which can be viewed over any environment.
Use AutoCAD Mobile's object snap modes for accurate sketches as well as its create features such as arcs, ellipses, circles or lines that make it easier to adjust an already existing design while on the job. You'll have access to advanced technical drawing tools for more complicated drawings including dimension, hatching and tapers.
AutoCAD mobile comes with a variety of sharing options to help you easily get your projects done with the least amount of hassle. Share your drawings through email, Facebook or Twitter in a fraction of time!
Express your creativity on the go, anytime. From professionals to kids and everyone inbetween. All of Spacedraw's creator tools are right at your fingertips on an Android-device for professional 3D modeling, texturing and painting as well – plus it adapts to any device size: from a large tablet monitor or screen all the way down to a small phone.
You can even use up to four points (multitouch) for controlling; change views with ease using gestures such as swipes, Zooms or tilting devices. The interface is super intuitive, so you'll be breezing through models in no time!
Spacedraw has been designed with every detail in mind: working closely together with artists within our studio, we wanted to make the best possible app for creating and sharing your art with others.
Spacedraw penetrates the walls of ignorance and sets a stage for advances in 3D modeling to be made on multi-touch devices. Take your work to new heights, covering up elementary mistakes with perfect precision through this intelligent software that's as intuitive and functional on a tablet as it is on an Android smartphone. The only thing restricting you now is the limitlessness of your imagination!
d3D Sculptor is a digital sculpting tool that offers everything from basic modeling tools to 3D painting, and the ability to share your work with other programs. Included are easy-to-follow tutorials, which help get newcomers up and running quickly.
D3D Sculptor was built with these folks in mind, providing tools that let them push, pull, extrude or move 3D models – modeling soft materials like clay with full control over the final shape. Tweak your UV coordinates, scale stuff up or down at will; rotate and translate your model to get it just right before exporting into other programs if desired. Exporting is great too though because you can almost instantly load an OBJ from your 3ga for export back into most industry standard 3d design suites without wasting an ouncey of time.
Designers can import OBJ files for further detailing or texturing before exporting them back into their 3D software of choice. Try using this program if you're looking for complex modeling abilities without breaking any speed barriers!
Fusion 360 is a free mobile-based app that can be used in conjunction with its companion cloud-based desktop product, Autodesk Fusion 360 (see previously mentions), that allows users to create and develop 3D CAD designs. The mobile environment offers intuitive functions such as streaming design properties from the host workspace and configuring settings with just a few taps—allowing team members to work more efficiently on complex projects.
Key features include viewing uploads of various data formats including SLDPRT, SAT, IGES, STEP and STL among many others; viewing updates for project information; reviewing large or small assemblies; hiding components within a model for easier viewing or animation; navigating the 3D design space by touching any point on the screen with zoom and pan controls all at your fingertips.
Onshape is a new, cloud-based CAD platform that combines powerful 3D modeling with the simplicity and speed of an online collaboration site like Google Docs for engineers everywhere. Whether you're working on your own computer or remotely from across town or around the globe, on one device or many, you can find what you need quickly and easily without tabs opening up all over your screen just to drag a file into your project folder.
With no complicated installation process needed, all it takes is a few clicks to draw your first line in space – which no matter where you are opens right in front of you in real time! With secure cloud storage, where every part can be shared by multiple people and projects simultaneously, you'll always have the most up-to-date version of your design.