If you need to add some text to your images that you are using, then you are going to want to use the best application that you can download. There are numerous options that you could use for your Android based phone and you should know what they are.
Top 5 Android Applications for Adding Text to Images
Here are just 5 of the top options to check out, so go ahead and install them now, including: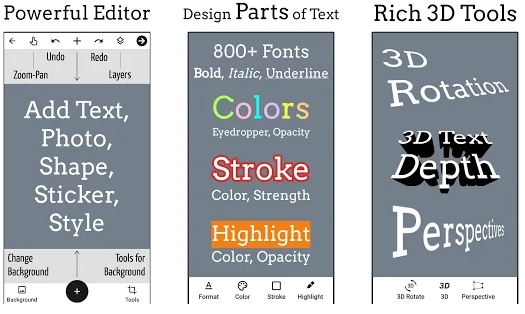 Add Text app: Text on Photo Editor
If you want something that would be simple to use without a complicated interface and various 3D text options, then this is the right. This will allow you to create some gorgeous and text based images that will catch the eye of everyone, it allows you to add different types of overlays, including photos, shapes, stickers and saved text styles in 800+ fonts. Add Text app is the all-in-one tool for text creation. Text can be added to a photo, gradient, solid color or transparent background.
This app also supports adding unlimited number of your custom fonts (including emoji fonts). Furthermore, it has tools for designing parts of the text separately: font, format, color and stroke styles. Add more creativity and enjoy playing with 3D texts that have different features like 3D Rotate and Perspective. Moreover, switching between layers will make you feel like an expert content creator!
You can easily use this application to re-size the fonts that you are using along with being able to pick and choose the fonts you want. This will help you with making the most gorgeous pictures that you can share with your friends.
Have you ever wished for something to put in your pictures so they could be better and more recognizable? Fill them with texts, photographs, drawings or captions. Add as many resources you like: text fonts, photo effects, artistic brushes and many other things that will help make your snapshots look incredible.
Get the tools from this app all at once or try them one by one: they'll all come in handy during different stages of the design process. Enhance your photos with comic conversations!
Choose among a wide variety of speech balloons will bring laughter to any image narrative. You can add as many dialogue balloons as you want and customize them as you wish. Practical graphics just got much more entertaining thanks to this app!
When it comes to creating stunning photos you want to be able to use the simplest application. This one allows you to transform the text completely and you can adjust the angles, colors, design and more. It supports over 200 fonts, and custom fonts via installation.
If you don't have a lot of time and just want to create something quickly without compromising the image or the font, then this is the best one to choose. You can also customize your images depending on the social media platforms you want to use. It supports 750+ multilingual fonts, multiple text, font size, opacity, color, position, transform, rotation, bold, italic, capitalize, line spacing and letter spacing, wrap text, shadow, stroke (outline), glow (highlight), flip, and mirror. Deleting text is easy with Eraser Tool.
If you are searching for one where you can add not only creative fonts, but also borders and change up the colors, then this is the right one. Why not use something that will not only enhance the image and the fonts, but that is also very quick? It has a professional text editor toolkit to add text on photos with filter, crop, effect, brightness, contrast, saturation, colorize, blur, sharpen, transparency and so on.
The more you know about these applications, then the easier it will be for you to pick the right one for all of your needs.