The best meditation apps for Android are the ones that will help you achieve peace of mind and inner stillness. However, there are a lot of different options out there. With so many choices, it can be difficult to find one that suits your personal needs and preferences. The good news is that we've done all the hard work for you! In this blog post, we will discuss 5 fantastic meditation apps for Android. You're sure to find one that's perfect for you here!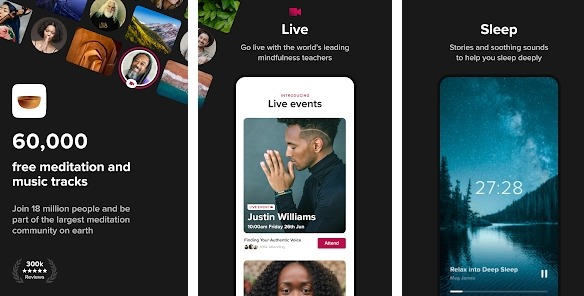 Insight Timer is a FREE meditation app to help you build healthier habits and feel more relaxed. With 100,000+ guided meditations spanning every genre from Mindfulness to Zen, Insight Timer has something for everyone!
You can customize your experience with time lengths or search through the free features like "Short Daily Mediations" or "Beginner's Guided Meditation." Join millions of people looking for stress relief, using apps for meditation 10 minutes each day. Already participating in a mindfulness practice? Connect with others at work who are on the same journey with metta chat groups available daily.
Meditopia is the app that lets you take a deep dive into your soul. Discovering yourself has never been easier, thanks to this easy start meditation app for iOS and Android with 250+ sessions in English and Spanish as well as timer programs, music to relax with nature sounds and more!
Listen to 250+ meditation sessions with top quality audio in both English & Spanish.
Learn how to meditate, listen music to relax with nature sounds, use the timer for guided meditations and focus on different topics with specialized programs like Happy Home or Focused Family.
Headspace: Meditation & Sleep is an Android app used for meditation and sleep management.
In order to help you get a great night's sleep, Headspace has introduced Sleep by Headspace. With a variety of courses to choose from, this app will provide relief for those who struggle falling asleep as well as those who have difficulty staying asleep.
For when you need some stress release or are looking for creative ideas and inspiration that can be found in our meditation courses – whether it's maintaining your focus at work or living life to the fullest during your leisure time – find what works best for you with the curated course selection in Sleep By Headspace!
Meditation and mindfulness are transforming the lives of many people. Research shows that just 5 minutes per day can improve sleep, reduce stress, and even prevent some mental health issues.
Simple Habit is the best app to get you in on these benefits! Just choose from our free library or guided meditations by experts – like meditation teachers at Google or former monks – for your 5-minute meditation.
You'll be guided every step of the way with our TrackMyMindfulMinutes feature so you know how long your session lasted and what time it started so you stay accountable for practicing regularly (and earn points!). With a Premium subscription, we also offer offline meditations to facilitate anytime practice. Simply turn off your wifi connection before starting one to hear it without an internet connection.
Calm is the perfect app for beginners and advanced mindfulness practitioners alike. There are sessions that range from 3 to 25 minutes so you can find what's right for your schedule. Topics include anxiety, stress management, sleep, concentration, relationships, breaking habits like smoking or overeating through guided positive affirmations or mantra meditation. Other topics include happiness though gratitude rituals and self-care practices like mindful eating (mindful movement). Cultivating gratitude puts us in a place of abundance rather than lack and hope instead of fear – all components to a fulfilling life!