3D printing is a technology that has been making waves in the world of manufacturing and design for quite some time now. It's an incredible way to create prototypes, models, and even finished products that would have taken a long time to produce by traditional means. The best part is, it doesn't matter if you don't have access to your own 3D printer – there are plenty of different apps available on Android devices which will take care of this for you! This article covers five such apps worth checking out.
5 Best Free 3D Printer Apps for Android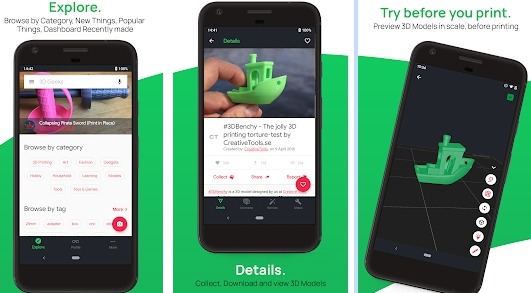 3D Geeks: Thingiverse Browser is the definitive free app for browsing Thingiverse on your mobile device. Among other features, you can login to your Makerbot account to like things or save models directly to cloud storage on this handy 3D printing resource!
3D Geeks simplifies the process of browsing and discovering model repositories such as Thingiverse. The intuitive, interactive experience suggest ways that your model might be improved before downloading it onto a print-ready printer with a single click.
3D Geeks: Thingiverse Browser is a superb application for 3D Printing enthusiasts. You can search collections, post your accomplished models, and more with ease!
Sketchup Viewer allows you to explore, present and communicate in 3D. There are many capabilities that allow people around the world to share their ideas and designs with others right from their Android phone or tablet. Use SketchUp Viewer while on the go!
Explore your models, present them to stakeholders, or share your designs with anyone who has an internet connection.
3D geometry is rendered in real time using OpenGL ES and takes full advantage of the graphics chip on the device, so scenes appear sharp and colorful
Edit models by applying changes at specific locations and updating only those elements; this makes it possible to see how design modifications will affect space before costly remodels or construction begins
Import file formats including Sketchup (.SKP), Collada (.DAE) & FBX (<2010); support for additional formats coming soon!
You never know when a 3D printer might come in handy. The "Thinger" app will feed your lonely printer with tons of colourful, creative, printable models for hours of enjoyable (or useful) printing!
This easy-to-use app is perfect for the amateur maker who can't wait to get started on their next project, and offers everything you could need to start printing – search through 400K+ 3D models and curate lists that match your taste; favorite an individual model or view how many times it has been printed by other makers; the option of downloading STL files so as not to break any copyright laws.
The StepperMillimeter is a calculation tool for your 3D printer or CNC machine. It allows you to calculate the ratio of millimeters to steps on anything with belts or threaded rod driven systems, which can be adjusted after initial calculations. You could make fine tune adjustments in order to increase accuracy.
With its pulley and belt adjustment system or threaded rod / screw system, it's perfect for all types of machinery. It not only calculates your steps per millimeter but also provides with any form of precision-fixing equipment needed. This sleek device is just what you need if you want to make sure that every detail will match the original design!
Plabric is the new 3D Printing Social Network and an amazing 3D printer controller on your phone. With this innovative technology, you can browse through a large variety of materials, as well as top-notch models that have been curated for you to download.
Furthermore, with Plabric's advanced slicing features – it makes designing anything from simple objects to complex patterns easier than ever before! Of course we went ahead and included intelligent vehicle profiles so that all your models are perfect with just one click!