Bullet hell or shoot 'em ups are games with easy-to-play yet very exciting gameplay.
In .Decluster Zero, you'll experience traditional Japanese bullet hell gameplay with beautiful neo-retro dot graphics. The game features a bullet-canceling system that allows you to erase bullets and clear the screen.
You'll encounter tons of bullets, but with this system, you can easily avoid them and keep playing. This game is an insane bullet hell shooter that will challenge your reflexes and skills.
The 'homing laser' mechanic is a key feature of the game, allowing players to cause considerable damage to enemies while also deflecting bullets. The homing laser requires a gauge, which can be easily filled by attacking enemies. Players are encouraged to use the homing laser aggressively in order to defeat enemies.
Another key mechanic is 'capture', which allows players to slow down bullets and use them for counterattacks. It is important to capture bullets collectively in order to turn them into effective attacks. Other features of the game include a level select menu that allows players to start from previously cleared levels and various option settings.
Are you ready to jump into the cockpit of a WWII fighter plane? AirAttack 2 will drop you right in the middle of World War II air combat! Get ready to experience the classic atmosphere of WW2 arcade shoot 'em up (or shmup) with stunning 3D graphics and an amazing orchestral soundtrack. Fire your flame-thrower and unleash bombs as you take out Axis enemy forces for a thrilling gaming experience that you won't soon forget.
You can choose from six-player airplanes, each with its own special skins and upgrades like Tail Gunner, Bombs, Lasers, Wingmen, and Homing Rockets. The fully destructible 3D environment ensures plenty of explosions, lighting effects, and other eye candy to enjoy. Plus there are daily events where you can win rewards, so start your engines today – AirAttack 2 is waiting for a daring pilot like you!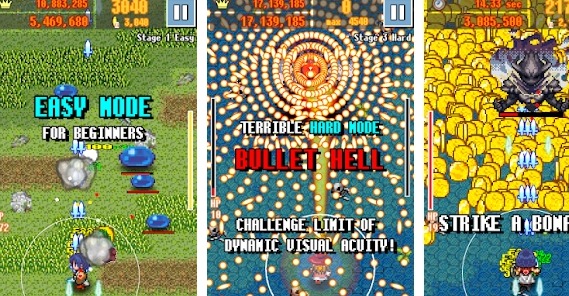 Some people play video games to relax, others to socialize, and still, others to compete. But what about those who play for the chance to strike it rich? With the recent release of ShooMachi, a retro JRPG-style bullet hell shoot 'em up game, players have the chance to do just that.
The game features a unique "bonanza" system that rewards players with increasing amounts of XP if they can clear a stage without taking any damage. And while some might argue that this is simply another way for developers to sell in-game items, the reality is that trying to strike it rich through video games is nothing new.
Guardian Girls: Astral Battle is more than just a simple shoot-em-up game – there's something for everyone! Whether you're a fan of bullet hell, cute anime girls, or epic stories, this game has it all. As an offline game, you can enter the world of Astral Spirits and begin your mission to defend your town from the invading forces.
With intuitive touchscreen controls, you'll have no trouble maneuvering your player and shooting all the enemies that get in your way. You can even find out what lies behind the attack and uncover the secrets of Guardian Girls.
If that's not enough of a challenge, don't worry; each level is followed by a unique boss fight! Get ready to dodge bullets galore as these enemies come at you with their own kind of bullet patterns.
In this bullet hell shooter game, your goal is to avoid the bullets and shoot enemies. It sounds simple enough, but trust us, it's not! As you progress through the game, enemies will become more plentiful and their bullets will move faster. That's why it's important to upgrade your craft regularly. With each upgrade, you'll be one step closer to taking down the boss and clearing the Chapter Mode.
Bullet Hell Monday Finale gives you fun, as you have a mission of killing enemies. There are options for leveling up the game and strengthening your craft. From the Chapter Mode, you will get a chance of choosing the difficulty level. You can launch bombs using swipe gestures.
Sky Force Reloaded is an intense, fast-paced shoot-em-up that combines arcade action with classic side-scrolling. With 15 beautiful levels full of enemies to battle, you'll be immersed in hours of frantic combat.
The game has a mix of ground, naval, and air forces for you to fight off, with intimidating bosses thrown into the mix. When things get tough, you can unlock higher difficulty selection modes from Normal to Nightmare!
And if you're feeling brave, there's also the option to rescue missing operatives from enemy territory – if you manage it, you'll be well rewarded. Furthermore, this shooter features nine different aircraft to customize and play around with – all bringing their own unique features and styles to the table.
You can even take your battles further by hunting down 30 bonus cards; some will offer permanent advantages while others are just temporary boosts. Sky Force Reloaded offers hundreds of upgrades for your guns and shields too – prepare for some intense gaming!