Smart phone is an essential part of our lives. Well, I use my phone every single day, and I've tried multiple Android Phone cases too. I was a true "bare-phone" purist, but the scratches, dents, and repairs are undeniably stressful. If this sounds relatable to you, then you might also want to check out these varieties of cases and covers for your Android Phone to indulge your knowledge!
Meet the Different Types of Cases and Covers for Android
Tough Cases
Tough cases offer an easier way to access the slots and ports of your phone! These cases decrease the chances of dropping your phone because of its amazing hold and grip.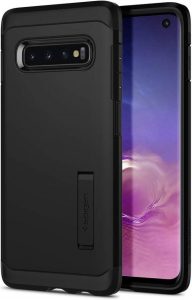 e.g. Spigen Tough Armor

This Spigen case is designed to pack durable protection in a slim frame. The back has a kickstand with raised lips to protect screen and camera. It i also optimized for wireless charging capability.
Folio Cases/Flip Cases
I used to have a Folio case that I deeply adored because of its pockets! These cases guarantee strong protection and come with slots, often used for credit cards. It also has a flippable front cover for closure.
Rugged Cases
These cases will not slide inside your pocket easily. Plus, rugged cases certainly minimize the damages in case of trouble. Transform your simple phone into an indestructible device with this type of android case!
Armband Cases
If you're a person who loves to jog or excites oneself with daily workout sessions, then this case is perfect for you! Armband cases offer easy and quick access to your smartphone without holding on to your device.
Battery Cases
Are you a power user, and you want your phone to last longer? Well, you can have cases that include an extra battery for double power usage. This case protects your phone while charging it at the same time!
Basic Cases/ Slim Cases
Can you carefully handle your phone? If yes, then that is where Basic cases come in! These cases build up the chances of getting through a fall. With its translucent feature, these cases will show the fancy designs of your phone.
Wallet Cases
There's no wonder why people love wallet cases for the safety of their android phones. It's like carrying a mini wallet or purse after all. This phone case can be attached to a strap and comfortably lets you carry your credit cards, ID, and phone in a single strap.
Holsters
If you want instant access all the time, you might want to consider a holster case. With this type of case, you can just simply clip your phone onto that belt of yours, which amusingly allows you to be hands-free.
Dry Bags
If you are the type of individual who likes to be in the water from time to time, then dry bag cases are must-try to keep water off your phone. Also, you can still use the phone inside the bag without worrying about the water splashing into it!
Sleeves
This sleeve is not an actual case, but it is almost the same accessory. You could easily insert cash, cards, or anything perfectly fitted in the sleeves.
Leaving your Android phone caseless can often lead to scratches, dents, or even destruction in the long run. Putting a cover is not just about protecting your phone, but also styling it in your own artistic way. When it comes down to it, even the most basic and cheap one can save you headaches, time, and especially money.