Tattoos are an expression of art and individuality. They also have a long history that goes back to ancient times. Tattoos are used by many people in cultures around the world, but it is still a form of body modification that some people find controversial.
If you want to get a tattoo, but don't want to be confined to one design or style, then these 5 apps can help you create your own!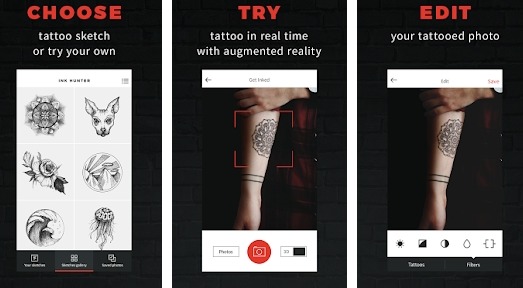 Introducing INKHUNTER the tattoo app made just for you! Let your imagination roam free and see how it looks before getting that permanent reminder of who you are. Design your own masterpiece from scratch or choose one from over 2,000 different designs in our gallery.
Enjoy on-screen video tutorials to walk you through the entire process of designing a new look! You can even add color and change hair type, eye color, etc., until it's perfect. The realistic effects using augmented reality will have people begging us to do them too!
Tired of tattoos that just aren't impressive enough? Want something that matches your style? Applying these temporary tattoos is easy as shooting fish in a barrel: wipe down the area you want to apply the design, peel off a film from the package and smooth it on! It sticks to your skin like glue.
Tattoodo is the social network for tattoo enthusiasts, from fresh amateurs to seasoned professionals. Find and follow amazing artists who inspire you, connect with mentors who know what you're going through, and discover your next favorite tattoo artist. With Inkd so accessible, it's never been a better time to start thinking about forever! Locate stellar studios in major cities all over the world.
Appointments are made on-the-spot via webcam where they can show off their portfolio in detail or preview designs that will be available soon. Use exclusive filters to find exactly what you want — realism? Fine lines? Black & grey? Just filter and click! It's personalized artwork at your fingertips!
If you've been looking for an original and creative tattoo idea, Tattoo Maker is your perfect application that will let you design beautiful tattoos in only three steps. Just install the app to play with your settings: size, color and font of the words. Then upload a photo from camera or select one from gallery and start drawing!
You can modify or remove any part of picture by simply clicking on touch pad on bottom left corner. This way you have the power to make it unique as never before: cover up ugly spots, put a quote next to hand mirror, change family photo into real masterpiece!
You like best tattoo on my body of my photo? Make your wishes come true with Tatoo Maker. Even those who cannot draw can be gifted ones at putting a tattoo on the skin. This app offers you Ideas from which you pick one that fits your style and choose one of 100s of fonts to adorn it with text and incorporate an image to make custom tattoos for yourself, someone special or as a gift.
Ink Inc. will have you digitally drawing tats all day long, without ever getting stuck with a needle! Draw hundreds of different designs for your customers from expert drawing perspectives and with careful precision point the needle to fill in shapes. With more than enough mess-ups to make every tattoo game addict go crazy, Ink Inc. is sure to be he ultimate gaming experience that will get everyone just as addicted as you are!