Music is something that everyone can enjoy, no matter their age. Streaming music on a device has become more and more popular in recent years as it provides access to millions of songs with just the tap of a button. It's hard to keep up with all the different apps available for Android, so we've compiled a list of the top five streaming services.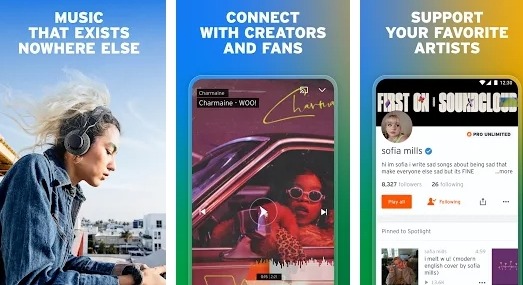 SoundCloud is a music streaming service that was created for people to upload any type of music they wanted and make it accessible for the public. It offers indie, established, local, and exclusive tracks as well as a diverse catalog. You can download it free on your mobile device to listen anytime you want.
SoundCloud is a social network for people who love music. Whether you're listening to the latest hit or uploading your own song, SoundCloud makes it easy to follow friends and artists, discover new content and save tracks that matter most.
Youtube Music is the robust, well-known library often enjoyed by households and even some public venues. Now imagine that this music library was offered on YouTube Music as an advertisement-free platform with a greater focus on power playlists to suit your mood each day and up to 30 times more song choices than Spotify.
It'll be available simply by following specific channels, such as music for your Workout or Relaxation sessions. Create personalized mixes based entirely around one of these themes or collaborate with others you deem trustworthy for the perfect playlist setup! Together you will get access to over 70 million official songs spanning many genres for a seamless experience.
SongFlip is the most popular music app with a free streaming service. With millions of songs, you can forget about that old radio station and hear your favorite genre from whatever hip hop, EDM, electronic, dance or country song that you love best! Just create playlists for whenever you're in the mood or listen to one of our carefully selected curated playlists. Signed up yet?
It's never been this easy to get into the groove. Simply download SongFlip to access almost unlimited music tracks which are organized by genre-pop music hits-jazz fusion-hip hop classics -all legally streamed free through WiFi or data connection.
Spotify is the number one app for music, and with a premium account you can listen to all your favorite songs without any ads! With Spotify, you get to decide what's next. Whether you're looking for new tracks or old favorites, we have something for every mood—even playlists handpicked by legends like Adam Levine. Browse our daily mix or see the top-rated tunes in hip-hop and dance so there's always something to keep you moving. You don't need an Internet connection because with Spotify Premium on mobile devices, tablets, desktops, PlayStation systems and Smart TVs it might as well be in your pocket. Enjoy it while running errands around town or laugh at sibling tirades while commuting to work.
Listen to all of YouTube's free music from the comfort of your Android device. Stream allows you to play music videos in a convenient, floating popup window while working on other tasks at hand, and even lets you schedule future listening windows so that your favorite jams are always just an ear-gleeful click away.
Stretch out with our unlimited library of fantastic songs from every genre or enjoy some casually great sounds with playlists compiled by artists like Lorde and Coldplay using Stream's playlist tool. It doesn't matter which way you choose – watching Youtube has never been this enjoyable!
This product is for: people who want to watch more YouTube than they used to because it's nicer when there aren't any ads; people who want to listen to more music than they used to because it's nicer when there isn't any ads; people who like listening and watching