You should ensure that you know what applications can help you with creating vector images when you need them. Ensure that you know what some of the top ones are so you can use them to customize and fine tune your images.
5 Best Apps for Creating Vector Images
Ensure that you are thinking about all of the applications that you can use when updating and enhancing your images. Here are 5 of the top ones, such as: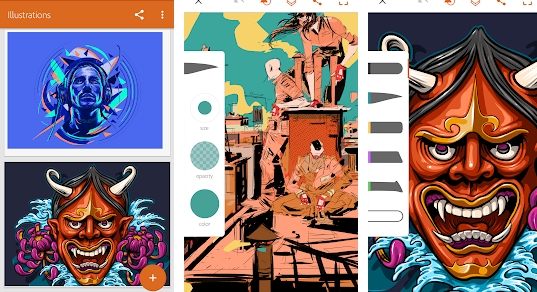 This is not a full fledge Adobe Illustrator version for mobile. It is the most simple vector drawer compared to desktop one. If you are hoping to be able to fine tune or even touch up the colors of the image that you are creating this is going to be the best application. It has complimentary storage of 2GB so you can keep all of your images in one spot. Via this app, you can get in-app access to your assets — including Adobe Stock images, photos you processed in Lightroom, or scalable vector-based shapes created in Capture.
A downloadable app for your phone/tablet which allows you to create vector art without the aid of a mouse! Through dragging your finger on the screen, curves can be defined in two control-points and origin and end points. With this precision, drawing with your fingers is almost as easy as drawing with a mouse! Not only has Pen Tool SVG lowered the entry threshold for people that are new to digital design but it has also given designers from all skill levels a compact platform: an expressive toolbox at their fingertips.
Another easy to use application would be this one and you can easily create something gorgeous. You don't need a complicated application to get the work done, but this one can help you with fine tuning everything.
If you don't want to just create vector images, but want to have an application that can do much more, then this is the right one. It will help you with creating your necessary vector images, but it can also help with making posters and logos.
Vector is perfect for anyone who spends their professional life creating posters, logos and business cards. This app has features of a poster maker, logo maker and business card maker all in one. Vector enables you to easily create designs by simply uploading graphics from your device onto the icon – no need to enter any ideas! If you're unsure about how to go about designing a poster or logo, there's also professional templates available on this App that will help give some clarity on what to include. Vector is an excellent way of spicing up your next design project with exciting colors and images – it's especially useful if you spend most of your day away from your desk due to work commitments; since everything can be designed using just an internet connection.
For those who have complex drawings, but want to use a tablet or their phone to make the final changes, then this application would be ideal. You can easily use the right brushes and other tools to fine tune everything.
If you are looking for an easy to use application this is the one you want to download. It will be easy to use and it will save using the SVG format and this will give you plenty of fun.
Ensure that you are thinking about these few applications when you are trying to consider what vector image drawing application you want to download and use.