So you've got your hands on the sleek foldable phone. Nice! With its expansive display and state-of-the-art design, you're holding a piece of the future. But as with any tech, its true potential is unlocked with the right software. Dive in as we explore ten must-have apps to elevate your foldable phones experience.
Notion: The All-In-One Workspace Solution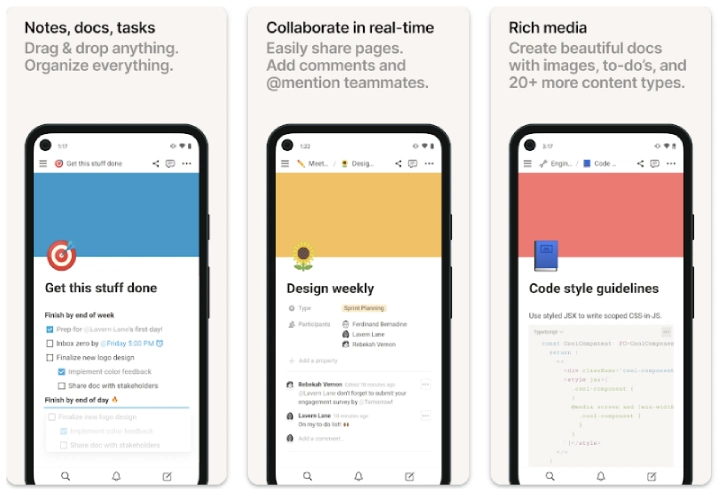 In the ever-evolving world of productivity tools, Notion has carved a niche for itself. A versatile workspace application, Notion is favored by professionals, students, and anyone in between who's in search of an integrated solution for notes, tasks, databases, and collaborative work.
It is even better to use Notion on a foldable phone. With a clean and user-friendly interface, Notion ensures a pleasant user experience. The drag-and-drop functionality, rich content embedding options, and easy navigation make it accessible, even for those new to the platform.
Good Lock: Customize Like a Pro
This is an exclusive app for Samsung foldable phones. Samsung has always given users the freedom to customize, and Good Lock takes that to the next level.
This app is more than just a lock screen changer. It's a comprehensive suite of customization tools.
Play around with themes, tweak your S Pen actions, or get wild with endlessly personalizable lock screens. While the Galaxy Z Flip 5 might see it as a necessity, for Z Fold 5 users, it's the cherry on top. 
DocuSign: A Game-Changer for the Busy Executive
For business executives, a folding phone is a dream come true. Its spacious inner screen is ideal for reviewing spreadsheets and important documents while traveling.
But what makes this device even more versatile is its compatibility with e-signature apps. These apps allow users to digitally sign documents seamlessly. And among them, DocuSign stands out.
With DocuSign, users can effortlessly sign up and gain access to the Free Edition, which is perfect for straightforward signing tasks. However, those who need collaborative features and advanced editing workflows might consider opting for the annual subscription.
Not sure if it's right for you? Don't sweat it – there's a 30-day free trial to test the waters.
Duet Display: Boost Your Productivity with a 2nd Screen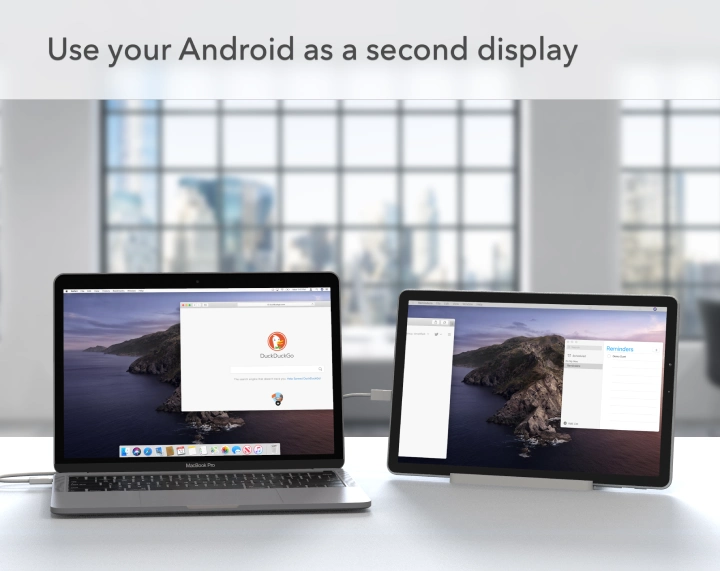 Having a large display on your phone can be really useful. Instead of letting it go to waste, you can use it as a second screen when you're using your laptop or desktop. To do this, you can use an app called Duet Display.
Designed by former Apple engineers, Duet is renowned for its exceptional performance and crystal-clear display quality. The best part? It works seamlessly with no delays.
Having two screens opens up opportunities to multitask efficiently, doubling productivity levels. Especially beneficial for travelers, Duet offers a compact solution to maintain productivity on the go.
Duet doesn't just provide an additional screen; it brings a whole new level of interactivity. Users can engage with their Mac or PC using touch controls and gestures. Features such as two-finger scrolling and pan-and-zoom gestures make navigation intuitive and smooth.
Gboard: Type in Style
While the Samsung keyboard might do the job, Gboard takes the typing experience up several notches. Developed by Google, Gboard shines in terms of functionality and aesthetics.
Those who type a lot (think emails, documents, or long social media comments) will appreciate the responsive keys, intuitive word predictions, and the myriad of themes available.
And if you're in the mood, the split keyboard feature offers a fresh, convenient way to type.
Backdrops: Wallpaper Wonders
A wallpaper can say a lot about a person. With Backdrops, you're spoiled for choice. This app offers a vast array of creative wallpapers curated for the discerning user.
And with Android's Material You, the dynamic themes ensure that your phone's UI elements beautifully complement your chosen wallpaper. Every time you unlock your phone, it'll be a visual treat.
Niagara Launcher: Freshen Up Your Homescreen
The default UI is decent, but sometimes, change is good. Enter Niagara Launcher. This launcher offers a refreshing take on home screen aesthetics and functionality. Especially on the Z Fold 5's outer screen, the launcher feels intuitive.
Scrolling through apps is a breeze, and the overall design feels uncluttered and modern. If you're in the mood for a home screen overhaul, Niagara is the way to go.
Evernote: Note-Taking Nirvana
In the realm of note-taking apps, Evernote has long held its ground. Perfect for personal musings or professional use, Evernote is packed with features.
A phone 's foldable-optimized layout is a playground for Evernote's capabilities. Whether it's to-do lists, notebooks, or quick scribbles, Evernote handles them with elegance.
Apple Music: Beats and Rhythms
While Spotify and YouTube Music have their merits, Apple Music stands out on larger screens. It uses screen real estate effectively, ensuring browsing and playback feel seamless.
Its intuitive design, especially on the Z Fold 5's large display, makes for a delightful music experience. Dive into your favorite tunes and discover new ones with Apple Music.
Lightroom: Photo Editing Mastery
Photographers and photo enthusiasts will love this. Adobe Lightroom on the folding phone is a match made in heaven. The app brings desktop-class editing tools right into your pocket.
From fine-tuning exposure to making advanced edits, the large display of the phone allows for precise and detailed work. It's a must-have for anyone serious about their mobile photography game.
Kindle: Dive into Literary Worlds
A folding phone's size and form factor make it a surprisingly effective e-reader. There are several great e-book reader apps available for use, but we suggest using the Amazon Kindle app on the phone.
This app is specially designed for foldable devices, providing an optimized experience. Additionally, it grants you access to Amazon's extensive e-book store, ensuring you can find all the popular books you desire.

It's worth mentioning that the navigation interface of the app may contain ads and monetization elements. However, once you start reading, these elements become less noticeable and do not disrupt your focus on the book. In this way, the app offers a well-rounded and immersive reading experience.
DraStic: Emulation Excellence
Retro gamers, rejoice! The expansive display of the folding phone brings a golden opportunity – emulation. DraStic, a top-tier Nintendo DS emulator, is a gem.
From classics to forgotten titles, this emulator brings a nostalgic trip down memory lane. The touch controls feel natural, and with the S Pen, games requiring precision become a joy to play.