Reading e-books on your Android device is typically a smooth experience. That said, there are some apps that might make the process even easier and more enjoyable. We've put together a list of 5 great apps to read e-books on your Android phone or tablet!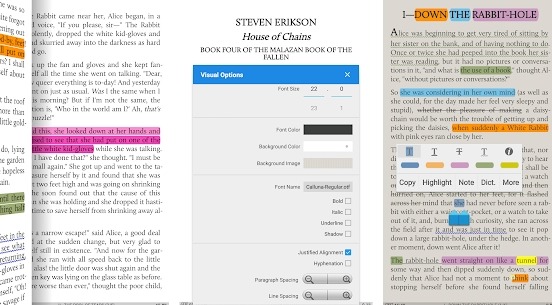 Moon+ Reader is a sleek and feature-rich eBook reader for Android tablets that offers text styling, 24 customized operations, 5 auto scroll modes, and can also be used as an image viewer.
Moon+ is one of the most popular reading app available in Google Play Store. It has an intuitive interface and supports many different formats including EPUB, PDF, FB2, TCR (TXT), CHM, MOBI, CBZ/CB7(ZIP), DJVU and HTML files. The user can adjust text size as well as font type and color with ease. Moon+ also supports gestures to make reading a fluid and enjoyable experience.
In a world of endless entertainment, the Amazon Kindle app puts millions of books in your pocket. Get instant access to eBooks anytime and anywhere, whether you are stuck at home on a rainy day or waiting for the plane to touch down.
You can add notes or dictate highlight sections right into text with voice recognition. The immersive reading experience comes alive through features such as Bookback library backdrops, high resolution color release images, Text-to-speech – read words aloud while still following along with text on your screen – Page Flip enables readers to skim page-by frame-by page (even return to previous pages) without losing their place! Take advantage of more than 100,000 Kindle exclusives and more than a million titles.
Prestigio eReader is an app where you can read a book, textbook, report andetc. It reads out the text book content to you through our Text-To-Speech functionality. You can also pick from popular titles of children books or any other type of entertaining book that this app offers; all in much more than 25 languages!
With Material Design and complete navigation, this device offers multiple shelf themes and in book backgrounds for an individual personal touch. The Prestigio features a vast number of formats including epub and fb2 files made available on its own app store to meet all readers needs.
This book reader also provides text-to-speech alternative for reading aloud where the desired language is not English. Enjoying your books has never been easier with its night mode feature as well as adjustable fonts, sizes and styles that are ideal for any occasion, mood or preference including ones created by you using our unique Books Collection option—you can now organize your stories by genre, author or date added amongst other parameters!
PocketBook Reader is a free app for reading any e-content (books, magazines, textbooks, comic books, etc.) and listening to audiobooks! The application supports 26 different formats – including the newest ones such as EPUB3 from Adobe. Read without ads and with total comfort thanks to improved compatibility with iPad Pro 12″ on all screens of up to 21.5″ – which also includes support for Apple Pencil Stylus!
If you're looking for some entertainment while exploring the city before your stay in a hotel then PocketBook Reader will definitely delight you as it has 4 different types of beautiful book themes that make reading really enjoyable: Light Background (Night), Dark Background (Day), Sepia Colored Background (Romance), and White Background (School).
Read on any device, Kobo offers 50% more eBooks than other readers. Kobo's award-winning eReading experience allows you to read books of all genres, and from major publishers such as HarperCollins, Hachette Book Group, Penguin Random House, Simon & Schuster Inc., Tor Books and many more!