We all love reading the news to keep up with what is going on in the world. But now that we have so many different sources for our information, how can we keep track of everything? The answer is by using a good news reader app! This blog post will introduce you to 5 of the best Android apps that help readers stay informed and entertained.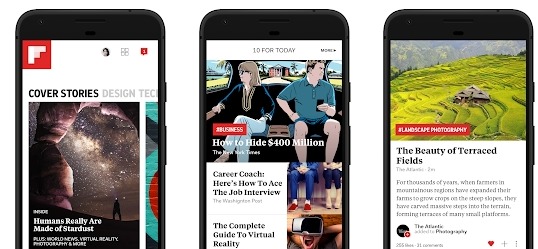 Flipboard is a social media magazine application where you can collect, share and read articles. You create topics that interest yourself like "recycling" or "music" and get content tailored just for you.
Flipboard is a free app for iPhone ®, iPad®, Android ™ and Kindle ® Fire tablets to search, collect and personalize online news stories on any topic in one place. It's available as a blank canvas from which you can quickly build your own personal newspaper with RSS feeds from top publishers such as The New York Times, National Geographic – whatever interests you! Based on your favorites (like TV shows), Flipboard will find articles closely related to what matters most to you; meanwhile our algorithm also ensures only the most relevant news finds its way to your Flipboard.
Feedly offers you a personalized way to connect with content that is relevant and interesting for your interests. You can find articles from more than 40 million different feeds in categories of interest, including work-related fields such as technology, business, design or marketing. Find popular topics by browsing through the many categories offered on Feedly – tech to science fiction, trending news stories around the world are just a few clicks away. In addition; Feedly is powered by RSS which means you can add any RSS feed you like from wherever you are. Try it today!
Dailyhunt is a news aggregation and content platform, delivering the most engaging and timely information in 14+ Indian languages, with unparalleled accuracy. It aggregates popular regional language sources from 2100+ media partners; monitors over 100 million user conversations for trending topics across India to deliver customized streams of news, videos & photos; and pinpoints your location with localized notifications on breaking news related to your area.
You can enjoy everything from cute pet videos & viral memes to articles on important topics with Dailyhunt. Get breaking news, along with your horoscope and weather in a single app; share the interesting content you find with all of your friends!
SmartNews is the award-winning news app downloaded by 40+ million readers in 100+ countries! SmartNews analyzes millions of articles every day to deliver the top trending news stories influencing the world right now.
SmartNews is the leading news app for people who care about what's happening now. It analyzes and filters through over five million articles to bring you high-quality, specific news on a wide variety of topics that interest you. Top news from NBC News, MSNBC, USA Today, TIME, The Huffington Post, Bleacher Report and more come right to your finger tips with this award winning app!
Stay one step ahead with Google News. With Full Coverage you can see how news is reported from numerous sources and personalized to your interests. With the For You tab, you can dive deep into different topics across a variety of subject areas so you never have to miss the story that matters to you most. Keep informed, explore the latest trends, hear voices unheard — all while staying on top of the headlines that matter most to you.