If you are having dinner in a restaurant with your friends and you need to know how much to tip and how much each person has to pay, you need a tool to do those calculations for you. These free Android tip calculator apps will help you figure out how much to tip with simple steps.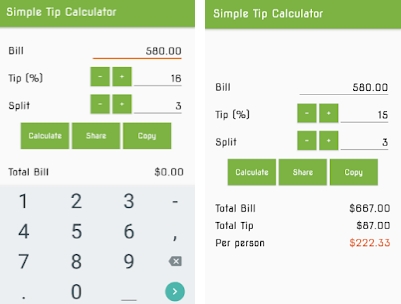 Compatible to virtually every device, Simple Tip Calculator allows users to calculate tips and split bills quickly. All you need to do is feed in the data you want to work with, and there you have your tip amount. If you're going to prove to your comrades that the split is fair, you can always share the tip calculation with them.
Simple Tip Calculator: It's time to simplify your tipping and split the bill. Whether you're at a restaurant, coffee shop, or lunch meeting, this app is perfect for making tip calculations easy as pie. Simply enter in the price of an item and total how much it would be if all items on the receipt were divided equally among everyone that has to split the bill with those who ordered. Then share your calculation with whoever needs to know!
Tip Me calculates tips in real-time, and super-fast. The app comes with robust features and is very easy to use. It has a built-in calculator that helps split the bill and determine how much each person is to pay. There is also a custom tip per cent in case you want such an option.
You won't find another tip calculator with this many features, looks this good (amazing!), or is as simple and intuitive as Tip Me. Precision? This app's got it–calculates in real time too so you can see exactly what your bill would be at any given moment. The other few apps' specifications on the Market come nowhere close to ours: they require permissions or take up too much of our precious battery life. Never again worry about getting the wrong change after your delicious meal with friends has ended!
Ads can be very annoying, especially when you only need a minute or less with an app. Not with this Tip Calculator! There are no ads to bug you here. All you get is a gorgeously designed app with a refined look. It enables you to calculate a tip and remember your last tip per cent quickly.
This app is the ultimate tip calculator if you are looking to calculate, split, and share bills quickly among your group members. You can also round up or down to come up with a sharable figure. Follow Handy Apps on Facebook to find more about this app.
Gratuity Wizard is unique in that it helps you calculate tips in any currency. If you want to make sure everyone in your group gets to pay an equal amount for a bill, this app will do a perfect job in that regard. Most importantly, the app is straightforward to use. The beauty of it all is that Gratuity Wizard is compatible with all devices.