Running is a great way to stay in shape and maintain good health. Many people enjoy running, but it can be difficult if you have no idea how far or fast you are going. Fortunately, there are many apps that will track your progress and help you improve your speed and distance over time.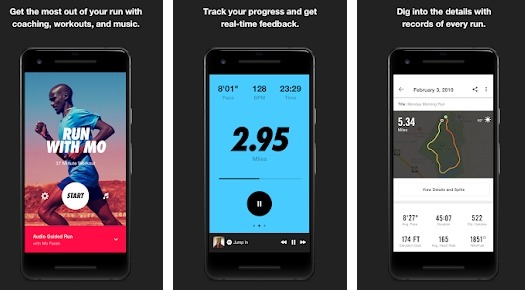 Become a better runner and have fun while doing it. Nike's Run Club has all the tools you need to run your best, with GPS tracking, audio guided runs from Nike coaches and athletes, monthly or weekly distance challenges for you to accomplish at your own pace – among other features! Be productive and proud within our world of achievement and motivation.
Nike Run Club has been designed for runners of all levels, and is made to support you through your most challenging runs. With GPS trackers, audio guidance from Nike Coaches and Athletes, anytime motivational cheers from friends – this app will make running more accessible or motivate you if it's a struggle. It offers personalised coaching plans, synchronized run tracking with the Nike Connect community and a dedicated section that highlights your achievements such as trophies and badges.
The new adidas Running App is the perfect way to stay socially active and stay up on fitness trends while keeping tabs on your goals. With over 100,000 followers so far running with you across the globe, it's never been easier to connect and compete as a community. Log into our app and find local running events in seconds from your phone wherever you are or get points for chasing down those late-night runs!
You've got this all figured out right? Not so fast – we're compatible with many other apps like Suunto, Kinomap, Running Heroes, Keller Sports, Zwift, Polar, Coros Garmin Connect and Nolio – make sure every device you have can sync seamlessly together.
Runkeeper is a fitness app that allows users to measure their progress in the form of miles, calories burned, tracks completed, and level achieved by outlining goals they want to achieve through the use of a training plan.
It provides running groups where runners can compete against one another without having to be present together which creates an environment perfect for those who are competitive and thrive on healthy competition. Moreover, this app provides audio queues such as pace reminders which help joggers keep track of their time.
Run like a pro! Let the professionals show you what its' like to be in shape with My First 5K plan. Get coaching as soon as your ready. Walking for weight loss and running for weight loss will let you lose weight effortlessly and feel healthy, confident, healthy-active person.
Track your stats and run faster in real time. Use enhanced data analysis to make the right adjustments. With so many running plans available, you're sure to find one that's perfect for you.
Strava is the essential fitness app for recording, mapping and analyzing your activities. Get on Strava today to record bike routes, run miles or swim laps – the pros do it too! You'll receive accurate training stats like pace and elevation with each activity which you can use to tune up your own workout.
Better yet, check out some of our expert-led workouts inside Strava so you can reach your goals faster! A free account gives three months of running data storage—record that 5K route without worrying whether you'll remember where it goes next week. Then sync all your minutes into third party sites like Runkeeper and Map My Run later if needed (follow our instructions in Account Settings).