With Android phones becoming more and more popular, screen recording apps have become a lot easier to access. With so many choices out there, it can be hard to find the one that is perfect for you! In this blog post, we will explore five of the best Android screen recorder apps on Google Play. We will discuss what each app has to offer and which one might be best for your needs.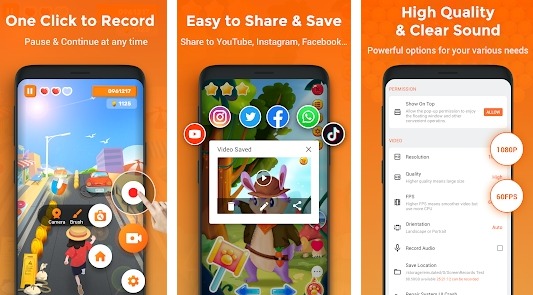 Stay one step ahead of the competition with our screen recorder, which makes it that much easier to capture high-quality videos and screenshots. This innovative software lets you focus on what really matters in gaming—the experience.
The app can easily record a smooth and clear video or screenshot. It captures everything from games, videos on your phone, even your own face in real-time. No watermark is applied so you can post without worries about branding restrictions.
Keep what's happening in front of you crisp & clear right off your Screen every time without loosing quality for live game shows or other important moments!
AZ Screen Recorder is a handy video recording app for Android. It's an all-around screen recorder that you can use to make professional-quality videos, whether they're guided tutorials, product updates, or gaming sessions.
The high quality of the finished video output makes large downloads unnecessary and leaves data usage to a minimum with no lag on playback (usually 30% higher quality than other apps). With features like voice recordings from your microphone plus facecam streaming or GIFs, this app lets you make sure every event goes as advertised!
VideoShow Recorder is one of the most advanced screen recorders in today's market. Offering you a chance to record any game you play with just one touch, it makes recording and editing videos so much easier, too! You can draw on the screen while editing your video or include an external sound from your mic by choosing to have "internal" audio turned on-this will allow you to hear any audio playing out through your device speakers.
VideoShow has filters, overlay scenes, buttons and tools for live streaming at home or from a classroom with no need to download additional software. With a vip subscription you can enjoy ad-free videos recorded without watermarks in HD quality.
Use Mobizen to cleanly record your screen without a watermark! The app has 2 modes: Clean mode that records the minimized state and Hide Air Circle mode that records the number of maximized apps you want.
The Clean Screen Recording feature not only saves your recordings automatically in FHD, but also has QUAD HD (QHD) recording available as well. You can show the world how good your game is without complicated settings or configuring hotkeys over and over again just for one quality option!
Just press "Home" for 5 seconds during recording to switch between other application screens like parallel windows! You can use this function with the facecam features so players can react more naturally into their favorite games.
Put your phone down and start recording directly from your screen! Screen Recorder instantly records stunning HD videos with audio, as well as allow you to take screenshots just the way you need. Stop or pause a video at any point without having to switch apps, and edit overlay feature lets you draw notes while recording.
No need for worry about having enough space – Screen recorder will continously record in background based on its size limit which is controllable by users. You can change appearance of video through day/night themes or use quick tiles that suits your audience's taste.
Once finished recording, unedited videos are saved right away onto SD Card while trimmed ones will be stored in MP4 format. Capture life moments effortlessly with this remarkable app!