Cycling is a popular sport which many people enjoy, but it can also be dangerous. It is important that cyclists stay safe while enjoying their favorite pastime. One way to do this is by using an app for your Android device which will alert you when there are any upcoming road hazards ahead. We have compiled 5 of the best cycling apps for Android devices, and we hope you find them helpful!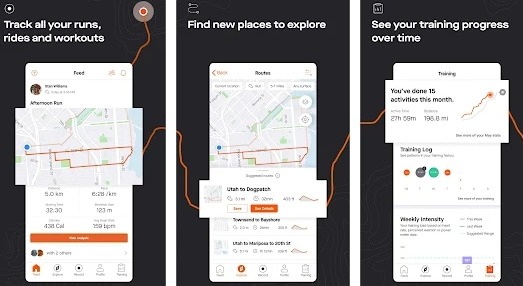 Strava is the ultimate fitness app for all cyclists and runners. The app works like a sophisticated cycle or running tracker to your phone, using GPS technology to keep track of your routes. It also features an activity calendar which tracks progress over time and in turn can even give you training suggestions on how to better reach individual goals. Strava also provides insightful analysis on distance traveled, mapped favorite trails/bike paths as well as speed data — everything you need for those who love cycling and running!
The Cycling – Bike Tracker is an easy way to map your workouts to keep track of how far you go, how many calories you burned, and see the stats in graphs. Track your bike (road cycling, mountain biking, BMX bikes) throughout the workout. The GPS location combined with detailed metrics from sensors such as speedometer and gps receiver are integrated into our system for high accuracy sports tracking while on a bike or any other vehicle.
This one tracker can do everything needed for cycling: measure the route distance in real-time with interval timepoints; calculate duration, speed and calorie burn; map out path parameters on current activity's summary page. It's more than just a cycling tracker!
With Bike Tracker, just download this free app and connect bike tracker for a seamless experience.
All your day's data recorded in one place, with over 50 features that will help you get even better at biking today! You can record speed, time elapsed and calories burned throughout the day. Each evening after a long ride/running workout feel accomplished when reading through an entire list of stats that give meaning to what was done in spinning class or curling up watching Netflix.
True companion on life's adventures has never been easier than now. Thanks to bike tracker you can easily measure elevation gain/loss thus filling whole parts of life's equation we always wanted to know.
With Cycling Diary – Bike Tracker, you won't need to remember what your bike does or where you've been – just the start and end points of a journey, and it tracks all significant data for your ride as well! Choose from five different charts: distance, altitude, calories burned/counted, speed at any interval (from just 2 minutes), and time with automatic pause – with more than 100 dashboard styles available.
It also provides an estimate of your effective power-to-weight ratio based on weight input function on setting after every ride so you can view how much effort is going in relative to miles traveled; learn about pedaling technique keys such as timing pedal cadence; plus get the most accurate reading of your speed and distance travelled on the map thanks to GPS!
Lace up your shoes and get in line for a ride you can't forget! Come to Togoparts – cycling events, challenges, and marketplace that's giving cyclists the thrill they need. Compete with other riders across Southeast Asia and conquer virtual cycling missions from smart-dashboards as well as gamified rewards systems.
With more than 10 million monthly active users on our platform, it'll be easy to find a fun, friendly event worth joining. No matter what grade of cyclist you are; whether an expert or taking it one pedal stroke at a time, there's nowhere better than Togoparts to push your boundaries with tireless competitions like adrenaline fuelled sprints and scenic routes around Malaysia.