Which is the best workout tracker app for Android? This is a question that many people are asking themselves these days. With so many different apps available, it can be difficult to find one that suits your needs. If you are looking for an app to track your workouts and monitor your progress, then this blog post is just what you need! In this blog post, we will go over 5 of the best workout log apps for Android phones.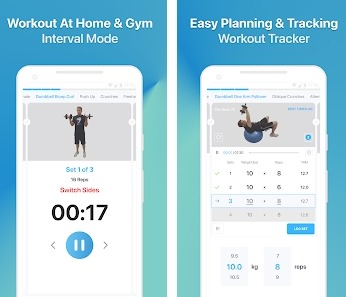 Are you ready to see how much stronger and healthier you'll be in just a matter of weeks? Download the JEFIT app on your phone and start tracking. You can lift heavy weights, swim laps or do anything else that feels right. The only thing we need from you is an honest effort – the results happen automatically, thanks to our built-in progress tracker.
Soon enough take stock knowing how many calories you've burned, sets completed and other great informative stats based on your workout history. So stop stressing about having time for workouts or feeling guilty when it's hard to stay motivated get to it with this easy way to keep track of what's going on during those tough sessions.
Strong is a workout tracker and exercise log so you can easily manage your routines, exercises, training programs, and progress. With Strong, fitness has never been easier!
One of the easiest to use interface of many apps on the Google Play Store means no more entering unnecessary information because Strong does all the work for you: just enter in what muscle groups you want to train that day (or every time) and then start adding weights for each contraction.
The advanced statistics track your personal records & progression-even calculating one rep max or total weight lifted with ease. Built-in auto countdown timer & support for multiple types of exercises makes this an ultimate productivity tool perfect for everyone from beginners to Olympic athletes looking to build their endurance in new ways.
Get ready to take your workout game to the next level with Simple Workout Log, the go-to for anyone who's looking for an easy way to track their physique. From gym rats and athletes of all shapes and sizes down to runners hoping to hit a new time or weight goal, logs can be easily created in seconds using this Android app! Need inspiration? No sweat. Track daily steps & calories burned with ease without revisiting previous workouts!
Simple Workout Log is a workout tracker designed to effectively log and track your workouts. With this app, you can use past exercises in a searchable list of options so that life at the gym just became easier!
FitNotes is a workout log that allows you to keep track of your workouts quickly and easily. View daily logs by swiping between them, navigate to a specific day using the inbuilt calendar, add an exercise to the workout log and record sets of weight or reps, swipe across when recording sets for quick viewing view of history with exercise or tap on the blue drag icon at top right to re-order exercises in workout log.
Sound, vibration options available for rest timer as well as attaching comments/notes (long press card then press 'edit mode') to keep track of what you're doing and how it's going.
GymKeeper is just the app for those of you with a huge weight-training routine that would like to maintain organization and observe your progress.
The app features everything from exercise tutorials, suggested tips for good habits in the gym and on rest days, motivational quotes, information about more than 500 exercises from 800+ workouts, and so much more. Never lose crucial data again with GymKeeper App!