The best workout apps for your Android phone are those that can help you to achieve a healthy lifestyle. There are many different types of workouts, as well as trainers and programs to choose from. Whether you want to lose weight, get in shape or just have more energy, there is an app out there for you! In this blog post we will discuss 5 of the best apps on the market today.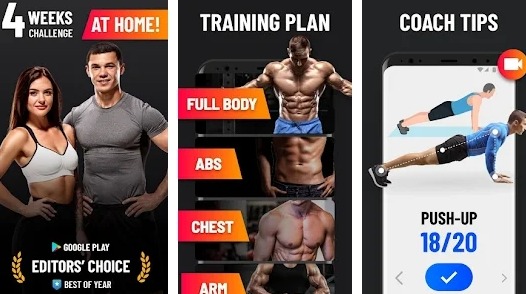 Each day, the warm-up and stretching routines are designed to make sure you exercise in a scientific way. With animations and video guidance for each exercise, we would never let you do any wrong moves! The app has workouts for your abs, chest, legs, arms and butt as well as full body workouts that ensure you tone out every muscle group all over your body.
At first glance from its many features like progress tracking to core exercises using just dumbbells or even couchworkouts without equipment needed at home; it seems almost too good to be true. But don't fret: there's no need for a gym membership since these quick but intense workouts can get six pack abs while being performed right in front of the TV! Just don't forget to stretch before and after each workout!
Keep Trainer is the easy-to-use exercise app for people who want a total fitness solution. Punish your abs and burn fat while watching Netflix, or give new life to your Sunday morning routine with Keep Trainer's HIIT workout!
Just think of everything you can keep fit: arms, legs, stomach…even pets! And not only will you be safe from slacking off on healthy habits this summer break, but you'll also have an increased sense of mental clarity and concentration after just 8 weeks of workouts.
The 400+ exercises in Keep Trainer are designed to track progress for weight training focused on muscle growth that targets metabolism boosting explosive cardiovascular exercise routines where time flies by quickly and effectively at your own pace.
Fitvate is an easy to use mobile app for home and gym workouts that is packed with variety- whether your goal is to tone or strengthen, start a new workout program or take your fitness level to the next level, Fitvate has you covered. Detailed video explanations of each exercise are available so once you know how to do it, just mark it off on your schedule! Start following video programs or construct your own workout plan for at-home strength training.
Lose weight, gain muscle, and lose fat by following an effective training plan with Fitvate! Get a workout program without the gym fees. Create your own programs out of hundreds of home workouts or follow our video guides for easy to understand explanations on how to perform them. Get in shape without weight equipment: every exercise you need is at your fingertips so there's no excuse not to pump up that body of yours!
It's like having your own personal trainer with you 24/7. Workout Trainer is the ultimate fitness companion, guiding you from beginner to advanced in a safe and fun way. With your customizable daily workouts now available anytime—even offline—you'll never need to skip a workout again.
The award-winning app includes dozens of exercises in each workout, dynamically adjusted difficulty levels for beginners and experienced athletes, certified trainers providing hands on instruction, plus over many routines that are sure to keep things fresh no matter what type of gym rat you are!
Olympia is a fitness app loaded up with workouts for every part of your body, no equipment required. Great for beginners and advanced exercisers alike, Olympia features 25 different workout programs that can be completed within just 30 minutes daily or in less than 15 minutes each day. Level 5 intensity means if you feel like running an extra mile or practicing quick agility drills after your strength training routine; you are totally going to feel the burn too!