When it comes to working out, the best thing you can do for yourself is set a timer. This will ensure that you don't spend hours on end at the gym or running without any breaks. If you're looking for an app that will help you get your workout in while also keeping track of your progress, here are five Android apps to consider!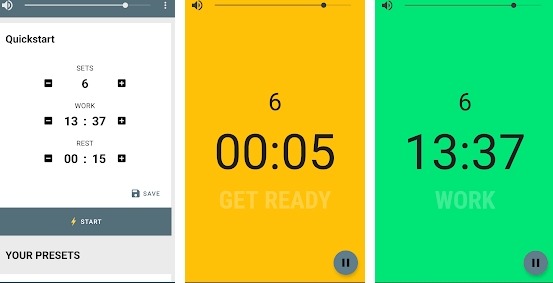 Interval Timer is simple and easy to use. Full screen color coding makes the minimalistic interface glanceable from afar.
Within the fitness industry, there are many different methods for physical activity: circuit training, HIIT exercise and Tabata. The Interval Timer is a timer that can be used to track these types of exercises as well as boxing rounds, calisthenics and much more.
Users save their presets to make it easy to switch between activities with a simple touch of a button. It also provides audio or vibration notifications that keep you aware when your interval is over – great for music enthusiasts!
This Tabata timer is really intuitive and easy to set up. There are no more wasted minutes looking for the right button, just a quick tap to start your HIIT training! You can customize the color of the interface to make it even easier on those eyes and avoid any confusion with other programs you might be running at once. Let's not forget about all of that information that goes into interval training- we've got you covered.
Drag in pictures or stickers (stickers!), type out descriptions, name intervals – whatever will motivate you to work hard during those 8 tough consumable seconds of aerobic exercises followed by 12 recovery seconds! Not only is this time tracker great for HIIT workouts but you can also use it for tabata, interval training and many other exercises.
Exercise Timer is the best interval timer available for Android with tracking features for your circuit training workouts. This highly customizable tool provides you with a clear visual of what exercises to work on and when for easy navigation.
You can count goal reps, rounds, or time intervals while customizing your exercises from a wide variety of workout options: warm-up, group exercise or routine type.
Exercise Timer is an amazing exercise interval timer that allows athletes and fitness enthusiasts alike to track their progress as they improve their cardiovascular health.
You're busy and want to be in the best shape of your life. This app can stay with you on every step, becoming a partner as you work out while tracking time spent and calories burned. Other features include countdown timers for AMRAP(As many rounds as possible), EMOM (Every minute on a minute) sessions, Tabata HIIT interval training, reduced adware/inflammatory data transmission and bug fixes.
You'll have everything you need with this elegant but powerful app: no notifications popping up during your workout, no buttons that distract you from doing what matters – just the way functional fitness was meant to be! The understandable interface will allow you to focus on performing the best possible for a short enough period of time so that you can make the most of your free time.
Timer Plus has an informative screen flash that lets you know when each round will be over, and interval stopwatch to accurately track your workout. – Not only does it have voice guidance, which makes workouts more interactive, once a timer is created it saves in the history of workouts for future reference! With this convenient and easy to use tool, there is no excuse not to "keep on punchin'!"
It can create countdown interval timer up to 99 hours and 59 minutes. For people who like to work out (high intensity workouts, Tabata intervals). Stopwatch notifies you of seconds left till rest time, with countdown voice guidance. Create an infinite number of timers for the duration that you want for each workout in history mode: running around the houses type excersise!