The weather is important to everyone, and some people even use it as a way to determine what they should wear or what they should cook for dinner. If you're one of these people, then you need the best Android Weather Apps and Widgets! This blog post discusses 5 different apps that will give you accurate, up-to-date information about the current weather where ever you are.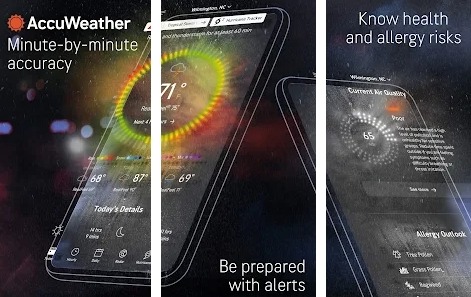 What better way to keep up with nature's unpredictable wrath than by knowing it 24/7?! AccuWeather provides up-to-date information on all types of weather. Whether you need a local forecast info, warnings for severe weather or just want to know if today will rain, this app has it!
Not only does the Weather Center offer accurate forecasts in minutes, but also live alerts and radar maps so you can see what's happening even before mother nature paints her masterpiece!
The app's beautiful, simple layout has a nice background. It is easy for you to see all the info that you need.
Whether you are planning your wardrobe for the day or what to do with your weekend, forecast the weather with Weawow! The app provides accurate 48-hour forecasts so that nothing surprises you.
If you plan on traveling from nearby towns to big cities, find out the conditions of where you're going before heading there. Weather reports are provided at a granular level (e.g., current temperature) so it's very easy to see what's ahead of time. No need worry about rain spoiling family outings in all types of locations – know the chance for precipitation certain days before it happens this way. Not only does this app have forecasting accuracy but also understand how hot/cold/humid it will be.
The app's layout is very simple, which makes the information easy to understand for everyone and everything in between.
Windy.com is an all-inclusive weather app that can tell you the current condition, forecast for weeks ahead, and answer any questions about what to expect today or in a few days from now. Windy's accurate prediction assures you will be prepared for your next outdoor adventure of choice.
The app that pilots, paragliders, skydivers, kiters, surfers, boaters and fishermen trust. Windy (also known as Windyty) is the weather forecast visualization tool trusted by professionals everywhere for its fast navigation and accurate forecasting. The only weather app that has been used to chase storms in the US and Australia amongst countless major Hollywood movies!
Weather Forecast – Accurate Local Weather & Widget is your personal helper for staying informed and prepared. Track local weather conditions to be aware of the moment changes in temperature or storms, get a full description on how cold it will be while you're outside, compare the UV index with this week's past UV index stats so you know when it's too dangerous to stay outdoors – all that at any time and all over the world!
Stay up-to-date with hourly forecasts at home or abroad and explore detailed solar flares information before any space storm strikes. And if that's not enough? Weather Forecast – Accurate Local Weather & Widgets can also generate an informative widget which updates automatically so you always have a fast glanceable overview of the forecast at your fingertips.
Change your day with the Weather App! Take charge of your daily forecast with 7 days of accurate weather updated every hour, so you know when rain will go away and if it's safe to leave home without an umbrella.
You'll get more than just a detailed breakdown in this app-quality live animations & graphics accompany voluminous data like wind speed and direction, pressure and precipitation information, sunrise/sunset time, weather radar & rain maps. And that last part doesn't mean you're doomed to cranky skies for the rest of the week-you can scroll through seventy five years' worth historical data from 15 countries right on this game changing program.