With the advancement of technology, people are able to take pictures from their phones and create incredible images that can be shared with friends in a matter of seconds. However, there is something about those vintage cameras from days gone by that has always been intriguing. Whether it's the quality of film or the physical camera itself, many people find themselves drawn towards these old-timey devices for their photography needs. If you're looking for ways to get your hands on one without having to spend thousands or even hundreds of dollars (depending on how old they are), then this article will help you out! Here we have compiled 5 apps that mimic the look and feel of an antique camera using modern technologies so give them a try today!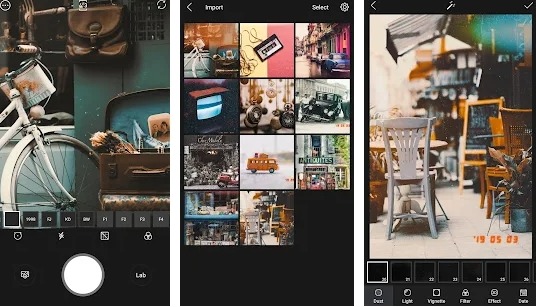 The 1998 Cam is a camera app for your phone that's not just an ordinary one but also stylish. You can take, edit and share photos and videos with this app and preview them in the beautiful retro-style of 40s until 2000. And that's not all. There are many filters to choose from when taking a picture or recording a video!
The intuitive design lets you craft realistic and engaging 3D photos and videos of the past using filters, effects, and intensity adjustments in one easy-to-use app so you can take vivid pictures of life as it once was or even create Hollywood-style sets to tell an extraordinary story. You'll be able to finally capture all of that nostalgia through a lens that fits all your needs: film stock, portrait and landscape mode, self timer function for taking group shots with friends on an old fashioned camera—1998 Cam is engineered to meet every memory maker's needs!
With Vintage Camera, you can turn your photos into unique and memorable pictures without paying for expensive photo-editing software. It's equipped with a full range of filters that helps you create amazing effects with just one touch! Accidents happen – but they don't have to be so bad. You can scratch an image up, add film grain to darken it, or even make the colors more vibrant using features like gradients and color filters!
All these sophisticated design tools are at your fingertips in this app; instantly scan through them to get the perfect look that corresponds best to how many likes on Instagram. Save time and money by making any picture into a work of art-and have fun doing it too!
Retrocam is a free camera app that lets you snap vintage photos with no hassle. Snap snaps of your pet, kids, or any object and relive the feel of retro photography from the 20th century! People always turn to Retrocam when they want to capture outerworldly aesthetics which can't be reproduced in other social media platforms.
Retrocam incorporates filters such as light leaks and scratches – all reminiscent of old-world cameras – for even more customizability (without having to download a different app). You don't have to stress about what filter would suit your photo best because Retrocam offers a wide range including Film Noir, Tilt shift, Exposure priority, Black & White among others.
OldRoll is your pocket video / photo app that lets you create beautiful analog photos with the classic M camera inspired by the Leica, or as if using a 503 CW.
We don't just simulate an analog style; we emulate it to be true to its own era and underline our difference from other apps. Our unique way of focusing could make all aspects of life 'pop'.
What if you could edit photographs, and make them look like they were taken decades ago? FIMO captures the beautiful magic of old-school film photography through your viewfinder – just a single tap on your finger. Just add dust and scratches, retro colors, flickering light leaks or frame shakes with one tap. It's so easy that in no time at all you'll be able to produce photos that look and sound like real film rolls pulled out of storage 30 years ago.