There are many video editors available for Android, but which ones are the best? In this blog post, we will take a look at seven of the top rated apps to help you decide. We'll break down their features and give you an idea about what they can do for your videos. If you have been looking for something that is easy to use and offers more than just basic editing capabilities, these might be perfect!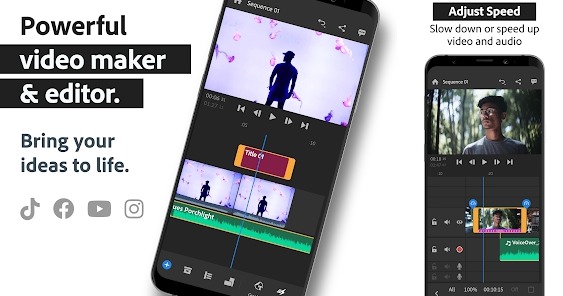 Now is the moment to jump into your creative future and make videos that matter. Premiere Rush is a powerful video editor that's fast and easy but has all the features you need: In just 3 minutes, create tutorial videos from scratch; produce great-looking projects – even on a phone; share directly to Instagram Stories; export up to 4K, upload instantly to Vimeo – or download files at 1080p HD. It's also free from watermarks! Upgrade for access to hundreds of premium soundtracks, loops, animated titles, overlays.
Adobe Premiere Rush is the mobile version of the popular Premiere Pro and would be the best Android video editor app for those who want to spend more time on their videos.
YouCut is the top free movie maker and video editor app that boasts features similar to many of its premium competitors. YouCut also has a no banner ads feature which makes it stand out against competitors like WeVideo, Avid Studio, Snapcut Pro, iMovie or PowerDirector. With YouCut you can join videos together into one project without losing quality!
Users can merge clips from different videos into one seamless edit for YouTube by adding transitions seamlessly into their video with our in-app burning wizard tool! That's not all-users can also trim video as they please making editing easier and more flexible than ever before! There are hundreds of presets available for users who want to create professional looking videos at home while saving time and money on expensive costs of production.
For any and every type of video editing need, CapCut is the perfect app! The streamlined interface gives you a variety of tools for quickly cutting down your footage, while high-quality effects offer another layer of design. With access to incredible music and trending memes, this app is industry leading in its field. What are you waiting for? Download now and get on board with today's modern video editors.
FilmoraGo is an easy but full-featured video-editor or movie maker for beginners. Editing video and creating videoshows or slideshows are all that's needed to get the job done. FilmoraGo has a complete range of professional editing tools, including musictracks, text effects, stickers/emojis and filters to create your perfect vid. Plus it doesn't need any knowledge on how to use complicated features like advanced editors do – any beginner can edit their videos in just minutes!
FilmoraGo is one of the best free video editors and video makers for YouTube and Tik Tok that has everything you need to create engaging videos.
KineMaster is a powerful video editing app for Android to help you create and share inspiring videos. Kine has all the tools to make your idea come to life: cutting, splicing, cropping, combining with music or voiceovers – anything! The best part? Downloadable high-quality effects from the KineMaster Asset Store!
Using something as simple as your phone, tablet, or Chromebook will soon be enough for you to make an amazing video. With so many options – thousands of downloads available for purchase in settings like transitions and special effects – it's never been easier than now. And with other new additions just added in this version of the app such as importing folders and exporting project files (while also not forgetting about transparency), now you can be even more creative with your videos.
InShot allows you to create and edit videos on your phone. You can add music, transitions, text, emojis or filters in order to make the perfect video for any occasion (daily life recording). With top movie maker & HD pro video editor you'll be able to upload your precious moments within a few seconds.
Tired of converting your videos one by one to upload on Instagram? InShot video editor will make it quick and easy for you. With basic editing features, such as cutting, trimming and rotating/flipping videos in seconds, this video maker is ideal for professional introvert customers everywhere! Whether you're looking to clean up a video before uploading on social media or add text to a new clip – look no further than the all-in-one solution that stands behind your convenience.