It seems like the world is always on the go these days. With so many options for entertainment, it's easy to get distracted and not be able to focus on what you need to do. Whether you're at home or work, there are times when you might want a little help staying organized. If this sounds like something that could benefit your life or your business, here are five of the best Android task management apps that can help!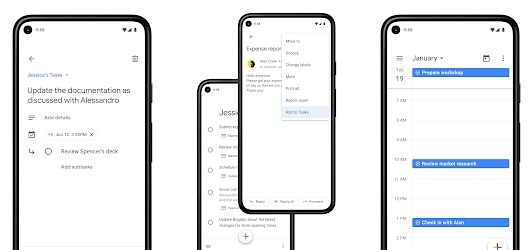 Organize your work with the best task management app. Get to-dos done faster, across all your devices—no matter where you are. Google Tasks is intuitive and easy to use with simple features like adding a due date or priority level to each task, then breaking it down into any number of subtasks so you can focus on what needs attention next. Use shared lists for teamwork so everyone in your group knows what's being worked on now.
Forgot about deadlines again? Integrations with Gmail and Google Calendar make sure you don't miss any key obligations Don't forget those details! Now in editing mode, add details like time estimate or location to a task; no more writing everything out every time.
Be productive with Any.do, the free and intelligent to-do list app for Android & iPhone. Stay on top of your daily tasks whether you're at work, home or on a commute with our Calendar & Task Manager widget by accessing it from standard calendar apps like Outlook, Google Calendar & Apple Calendar (iOS). Keep an organized to-do list with scheduled reminders and any day planner template.
With Any.do's innovative interface, you can now manage your to-do lists and calendar events side by side in an easy and intuitive way, so that by looking at the app, you actually accomplish more without thinking about it. This free to do list includes the advanced features you have been waiting for (daily planner view, advanced event management) along with a new fresh look for visual clarity.
With To Do, we've partnered with experts from the design, UX, and product worlds to bring you a modern list-making app that makes your lists unique and accessible on any device. Unlike Microsoft Office 365 tasks, which are only available as an extension in Word or Outlook on Windows PCs, To Do syncs across your devices automatically—including iOS ​​​and Android for those who need reminders when away from their PC.
And unlike other task managers on the market today that feature dry words like "add task" or bland fonts of a limited handful of styles for titles (seriously), Microsoft To Do features rich colors backgrounds; playful emoji within lists; daily planners pre-loaded with suggested tasks; and handwritten notes for adding those tasks you just can't shake.
A great time management tool for every busy business owner, monday.com lets you pool all your tasks in one convenient place. Use our easy to create and customize interface to boost productivity with team collaboration features like real-time assignation of tasks and adjustable task lists that account for the development of each individual person's style as they work on projects or come up against roadblocks. No more trying to keep tabs on everything from multiple compartments!
MeisterTask comes with everything you need to create, schedule and track tasks. You no longer have to worry about keeping all your project information in a specific platform or documents. MeisterTask syncs all the project information on every device so that everyone can access it from everywhere and at any time! It is easy for technical geeks like us to use but without going over our heads which would make this app accessible for people of different interests as well 😉