Have you ever wanted to show off your pictures on your Android device? Maybe you want to share a picture from the wedding or all of the cute pics of your kids and grandkids on Facebook. The best way to do this is by using one of these five photo gallery apps for Android. All of them have their own benefits, but let's take a closer look at each app!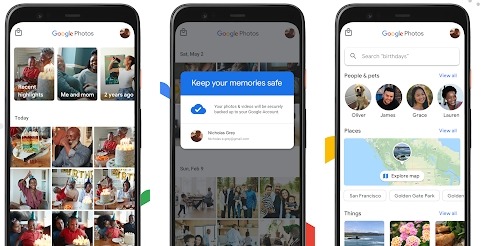 Google Photos is letting you do more with your photos and videos in one central place. Create short music videos combined from your favorite pictures of friends, make a moving photo book using those pictures of faraway lands or whatever else you want to share with family far away, then automatically back them all up on Google Drive so they'll be here when you need 'em next time—all for free with the official Google Photos app.
With powerful editing tools like content-aware filters, tap to transform your photo with a single touch, advanced image recognition technology detects the people in pictures so all of their faces are easily found later on, and easy sharing suggestions help make sure friends get copies of the great shots you took of them.
Organizing your memories has never been easier. Photo Gallery & Album manages and organizes all of the pictures you have taken throughout the years, in an intuitive design where there are automatically generated albums for different time periods.
Sending a photo to family members or your friends is as simple as tapping on it, selecting share, and then choosing who it's going to go to. Save your favorite photos into one easy-to-access album with a single tap!
More than just viewing your photos, you can also organize them automatically by the time they were taken or even create personal albums for editing privacy settings!
Forget bulky, slow and old design software. The Gallery app is a beautiful, fast photo gallery and picture manager for your pictures and videos. With this DIY tool you can enjoy amazing features like quick search of files anywhere in the phone's storage or on social media (Facebook, Instagram, WhatsApp), changing wallpaper with four different view modes available.
Free up memory by quickly deleting photos out of albums without worrying about finding if they are backed up somewhere else because Gallery has powerful photo editor tools which allow to change video details or rename batch of images at once with one simple swipe!
Achieve easy-to-use video and picture management with just single tap on this modern app!
All you need is a singular application for all of your photo editor needs. With the advanced features and intuitive interface, Simple Gallery lets you edit photos in many ways. You can crop or rotate them, fix colors or reflections, apply effects like vignettes…the list goes on! It's no wonder that this simple tools have become essential to Android photographers everywhere.
We don't stop there though-Simple Gallery also includes a photo share feature that let's users instantly show off their creations and gather feedback from friends on Facebook and Instagram feeds, email messages or text messages!
Gallery Go is Android's latest photo and video gallery app, built to help you organize your photos faster- automatically. No more time wasted scrolling for that perfect shot. Gallery Go organizes and groups all your photos by content- from selfies to videos of nature- so it'll be easier than ever before to show friends and family the experiences that matter most.
Gallery Go is a smart, light and fast photo and video gallery with easy installation. In addition to a touch-friendly interface featuring drag-and-drop gestures that help you find all your photos faster, Gallery Go offers stunning editing options like auto enhancer that let you look your best in seconds.