The best camera in the world is the one that you have with you, and this has never been truer than it is today. With so many smartphones on the market, we are no longer at a loss when it comes to capturing memories. But what if your phone's camera just doesn't cut it?
Android phones come with some amazing photo editing apps. Whether you want to add filters, change the contrast or even add text, there is an app for you! In this article we will review 5 of the best Android photo editors and compare their features to help you decide which one is right for your needs.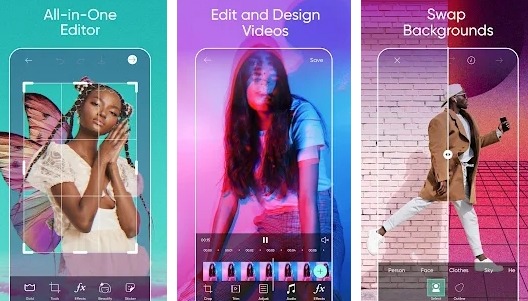 You take photos, but don't have the talent to fix them up? Worry not – Picsart Photo Editor is here. With 200+ designer fonts and good ol' Snapchat like filters, you'll be photo-ready in no time!
Start off by trying trending filters for pictures and popular photo effects: blue fog, such as something out of a dream, or red sky which looks way cooler than your old sunset live filter. You can also use the Background Eraser to erase and replace backgrounds with images from our library or of your own.
Speaking of images – if there's anything that needs taking care of in terms of on-picture elements (we won't ask what that might be), the Remove Object tool can help remove unwanted objects.
Snapseed is an advanced, yet easy-to-use photo editor with some of the most powerful digital editing tools to transform images and create incredible photos. With 29 tools and filters including a selective filter brush that allows one to change specific areas of the image, Snapseed opens JPG and RAW files up for post-production editing.
The Tune Image function offers three automatic presets or a range of manual adjustments for more fine tuning. One can also use many features across all styles with precise control by rotating and enlarging just about any type of photo at one's convenience.
Pixlr is here to save the day with a variety of awesome effects! Now you can automatically adjust the color in one click, make cool photo effects, remove blemishes and red eye, create collages easily without registering for an account.
Pixlr's new features include Instasize presets that let your photos fill our entire screen; Double Exposure lets you see infinite potential possibilities; Stylize (pencil sketch, poster, watercolor)for cool effect and more! You now have access to over 100 licensed filters–and each filter has a range of options from 0-100. Don't miss out on this upgrade!
Adobe Lightroom is all about improving raw photos by transforming colors, adding filters, with a tap and drag movement. The photo editing app will give you the power to edit your images anywhere without the need for expensive tools in special environments. Adobe Lightroom is the perfect tool for every photographer who needs an easy way to edit pictures on the go!
Edit and transform raw photos with Adobe Lightroom's free mobile photo editing app! Tap and drag sliders to improve light and color, apply filters for pictures, presets, effect packs and more! Bring your creative vision to life with this powerful photo editor that inspires you in ways you never thought possible!
With Afterlight you can easily edit your photos to perfection with over 15 different adjustment tools and 59 filters. With a variety of natural leaks, textures, occasional frames, light sources and vintage looks the possibilities are endless.
Afterlight is the perfect image editing app for quick and straightforward editing. There are 15 adjustment tools each specifically made to enhance any pictures you take or choose from. Filters create a variety of unique looks with 59 options included, as well as 66 textures created using various real film.