In today's workplace, many professionals are relying on mobile devices to get their work done. This trend has led to the production of a variety of apps that can help you do anything from creating presentations and editing photos to sending an email. One such category is office suite apps for Android smartphones and tablets. These five options will have your company feeling more productive in no time!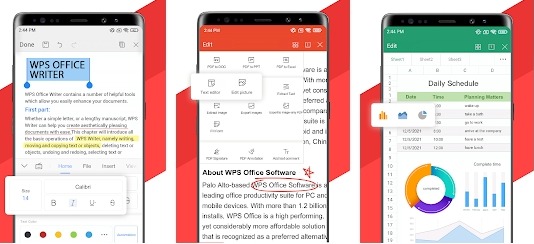 The WPS Office is a powerful office suite that offers all the features of MS office on your phone. With templates, tools and more this app has everything you need to update your resume or create budget projections in minutes. Free PDF conversion will make life easy too!
With WPS Office, you have all the tools of an office suite right in your pocket—a real lifesaver. Now you can be your own boss and do business everywhere at any time.
Sleek and elegant Outlook-inspired interface provides intuitive user experience with quick access to emails, people, meetings, as well as a variety of templates for popular document formats such as word processing documents or slideshows from PowerPoint to text presentation files such as PPT's.
The Quick Menu lets you manage conversations with colleagues easier than ever before. It also contains functions for scanning new PDF Files to get them converted into editable Word Documents instantly while syncing it online too! You can create stunning presentations on the go that save seamlessly on your device.
OfficeSuite is a powerful suite of applications that work together to make you more productive and slide presentations. It's so easy, any task with any file format becomes simple.
With OfficeSuite, you can build and edit your Microsoft documents, convert PDFs to Word docs and Excel spreadsheets, work with Conditional Formatting and Formulas on different platforms; all while syncing files across mobile devices or saving them in the cloud. It's the one app for everything document editing that truly is: Your One Stop App For Documents!
Google Docs is a cloud-based office suite created by Google. With the Google Docs App, you can on your mobile device create, edit and work with others in real time on spreadsheets, presentations, graphics files and documents. Files are saved automatically as you type meaning there's no need to worry about formatting or saving – everything will always be safe and accessible when you share it with the world.
Google has made these features of its app compelling enough that using them feels like second nature so we say give them a try!
With Microsoft Office, you can take the three most popular tools for productivity and get them all in one app. The seamless experience makes it easy to prepare Word documents, edit Presentations including slides created using PowerPoint, and work on spreadsheets with Excel.
With its ability to store and access everywhere from tablets or PCs along with real-time editing for collaborators in a group project, Microsoft Office is your go-to app for productivity at any time of day.
All Document Reader will help you read all the critical documents that were downloaded from internet. All Document Reader is easy and free to use which makes it top choice for office software, with features such as reading PDF files or doc files on its very own. It also offers features of different document reader formats like ppt reader, txt reader, excel & more.
If you've got a long document that's too long to read in just one sitting, this is the perfect app for you! Easily access, view, print and share PDF files – all in one app. Plus when reading pdf files as books on your phone or tablet they're easier on your eyes than scrolling endlessly through a web page while docked.