There are many document scanner apps for Android available on the Google Play Store, but not all of them are created equal. This article will highlight five of the best ones that you can download and use to digitize your paper documents without any complications.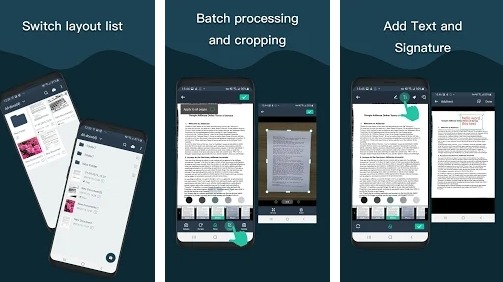 Google Drive is an online and mobile workspace that lets you achieve more at work. At any hour, your information is safe and accessible across Google's powerful suite of business apps—including Docs, Sheets, Slides, Groups for conversations in the cloud, Contacts for team-building contacts management.
Google Drive also keeps up with your busy pace by working with you when it's convenient and easy to use: from anywhere to almost anything on your device. And with Drive, you also can use your Android device camera to scan paper documents.
The Simple Scanner is a PDF document scanner application that turns your phone into a portable scanner. You can scan documents, photos, receipts, reports or just about anything. The scan will be saved to the device in image or PDF format.
Name and organize your scans to folders on the device, share it with people you choose website like Dropbox, Evernote or WhatsApp or to classmates through messaging apps like Google Drive for collaboration.
The Incredible Scanner also automatically uploads JPG and PDF files to cloud disk; backs up and synchronizes these files across devices of yours; emailing them as attachments so they get delivered no matter where you are; printing them out from anywhere in seconds with copies that look great every time-and more!
Clear Scan is the app for people who need a document scanner quickly and easily. With Clear Scan, you can scan your documents with one touch of a button – no complicated settings or installation required.
Plus, the developer gives you the freedom to choose from photo, document, clear black & white types to make sure that all your files are optimized just for what you need them to be (and even more). The app doesn't stop there: with an elegant interface allows easy access to folders and subfolders so that organizing large amounts of paperwork is a breeze.
Plus the in-app editing features enable users to edit files without having to save on another device and come back afterwards. Get your paperwork together today with Clear Scan!
Document scanner turns your phone or tablet into a fast and easy scanning device. The app allows you to convert photos to PDF files, PNGs, and JPEGs and also edit them after saving time. What's more? Scan any type of paper, receipts, book pages, articles, business cards; Documents are saved in high resolution for clearer text with quicker scans while preserving the document's layout. You can even create a class notes scan folder that will sort all of your scanned documents automatically by date and save everything you need in one place so it'll never lose again.
Scanner is now no more just a scanner with Document Scanner – PDF Creator. It can also be transformed into your office assistant which will save you much of the desk space as it provides scan enhancements, removes unnecessary backgrounds from documents and saves PDFs in various formats. One click to transform an old documentation into a clear-cut one!
Being able to print and fax scans directly from the app makes it easy to get all your work done without losing any quality through different devices. Uploading scanned files/PDFs on cloud storage services such as Google Drive gives you lots of options for storing data easily and then retrieve whenever needed which nullifies the need for purchasing external hard drives or CD's in order to safely store information.