If you've been waiting for the perfect email app for your Android phone, then wait no more. There are many great choices available to you, and we have put together a list of the 5 best ones here.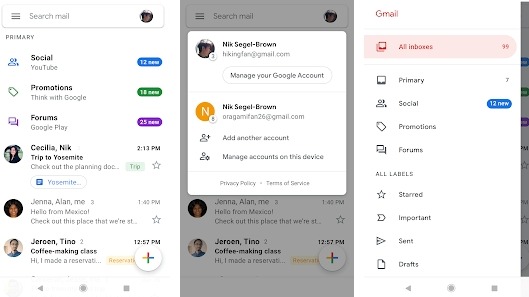 This is an obvious choice because it's provided by Google but one that should never be overlooked. Gmail works just like any other email service on your Android phone with some added features (such as being able to search emails).
With Gmail, organizing an inbox is a piece of cake. You can quickly categorize social and promotional emails into spam or read now.
Free 15GB storage is just a bonus bundled with helpful tools to protect and organize your inbox. You'll never have to delete messages unnecessarily again – Gmail automatically separates promotional emails from those from friends and family, so you can decide how often they show up in your inbox.
If you want something more than just a basic email app, then check out Outlook. It has all sorts of cool features such as swipe gestures and calendar integration so that you can manage your work life while on-the-go!
Microsoft Outlook is a flexible, powerful solution to help you stay on top of work and personal life. This secure email program features a calendar, contacts and files all in one place. Existing calendars can be imported from various types of desktop programs as well as Google Calendar with the "Import calendar" tool that Outlook offers upon installation.
Email, documents and directory services are secured by the S/MIME encryption protocol which is Microsoft's proprietary technology for providing data privacy when communicating digitally over public networks such as SMTP-based email or HTTP-based web chat sessions such as Skype Online Meetings. Connected experiences with Office, Word, Excel PowerPoint and OneNote make this an excellent piece of management software at the center of any office.
Whether you like to stay on top of things, immerse yourself in your work, or take a light touch approach, myMail for Android has the features and settings for the different types of user. It's easy to organise your mailbox by flagging, moving emails to spam or deleting unwanted messages. You can also search through contacts and attachment files from within the app with suggestions while typing. Customise your push notifications according to time zones that suit you best so you never miss a beat again!
For those who want standout effortlessly with their signature at all times too there is an option for creating one with tools such as arrows and stationery writing styles pre-loaded. If myMail doesn't have what it takes try our other choices and find the one that suits you best!
Blue Mail is an email management application designed with simplicity in mind. Employees can easily switch between the multiple accounts they use during the day to find important messages and avoid distractions from social media, magazines or other websites. Since Blue Mail has instant push, your inbox will be updated as soon as you close it on one device and open it again on another making it perfect for those who need a constant stream of time-sensitive information without worrying about missing important updates.
Users are also armed with features such as gesture support that make managing their emails easier than ever before by granting them easy access to interacting with messages quickly. Compose a new message or reopen our article draft, all while remaining focused on what matters most: work!