An Android phone is a great device, but the default wallpaper can get boring. Live wallpapers are easily downloaded from Google Play and make your phone feel more lively.
Live wallpapers come in many different forms: some display beautiful scenery or popular characters that move around as you use your phone; others will create an animated scene on the screen when you wake up or unlock your device. In this blog post, we'll show you 5 of the best live wallpaper apps for Android devices!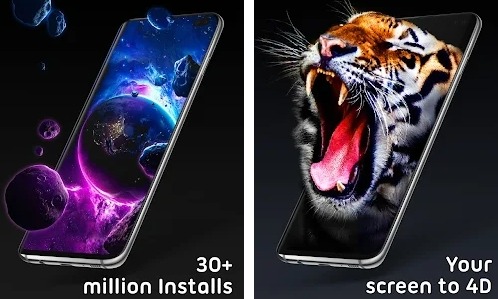 Bring your home & lock screen to life with Pixel 4D Live Wallpapers 4K! With over 300 3D live wallpapers and animated backgrounds, this live wallpaper pack makes your device one of a kind. 1 for the home screen, and another for your lock-screen – it's never been easier to decorate more than 1 screens at once.
This animation pack contains both free & paid live wallpapers available in FHD, QHD, WQHD resolutions so that you can have the best quality possible on any screen size or type: 1080p HD stock patterns from Samsung Galaxy devices; a variety of abstract visuals like Ink Blotz Pro (watercolor paint design), Lounge Patterns (harmonic colors and shapes); Unique geometric visuals like Galaxy Swirls HD (a mesmerizing light show of colorful shapes) & more.
A marvelous 3D live wallpaper that instantly reshapes your mobile screen into an incredibly beautiful, ultra-realistic water pond full of spiritual koi fish!
Your phone will be filled with lapping waves, swaying grass blades and rippling water in a mesmerizing display of nature's beauty. Feel free to customize the whole experience yourself: wade in this serene lake by tilting your device as it would were you standing at the shoreline; or just sit back and relax as Koi swim past while red cloud shapes drift across the deep blue sky.
A high definition graphics engine renders unprecedented optical realism without any performance hits so all HD screens can enjoy its landscape panoramas.
Live Wallpapers – 4K Wallpapers is a great app for those seeking stunning backgrounds to customize their devices together with hard, live wallpaper and battery saving. The Wide Range of Live Backgrounds and Static Backgrounds available in HD that can work for any device's screen sizes make this app an absolute delight to have on your smartphone.
Famous live wallpaper apps and live backgrounds are all gathered for your device. Only high resolution 1080p, 1440p & 4K (3840×2160) images means that the app can be used in most of terminal devices with efficiency while retaining amazing quality.
Tired of experiencing the same set of wallpapers? The screen saver automatically refreshes every time when you open or lock your phone which ensures that there is always a fresh experience waiting for you.
This light weight app runs smoothly on low end phones but also provides great experience on high-end phones like Samsung Galaxy S7 because it doesn't consume your battery power and Internet traffic.
3D Live wallpaper
Live wallpapers are not at all new, but they used to be limited to your home screen. Now with this4K wallpaper app, you can bring a little more life into any scenario and have access to countless cool 3D backgrounds when you want them (there's even battery efficiency if that matters). With 250+ HD live wallpaper backgrounds- from space wallpapers and galaxy backdrops to superhero 3D Wallpaper settings – there are always going to be options for what sparks your imagination the most. And each day we update these!