The world of music is changing. With the rise of apps like GarageBand, recent college graduates are able to make high quality sounding music using their phone. Whether you want to create a melody or need an app for recording your band's next album, this article will provide 5 great Android apps that can help you get started.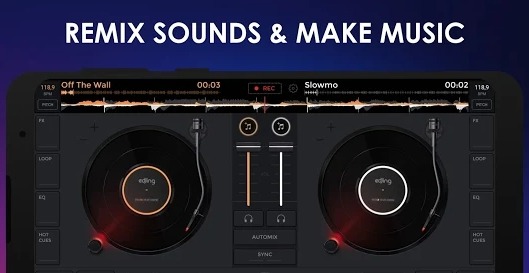 edjing Mix is the hottest DJ software out there, with features like advanced sort and multisource playlists. It's compatible with a huge range of music sources, and can integrate into your library to make it easier than ever before to find new songs while mixing in some old ones. Use edjing Mix for all your streaming services or just your local files – edjing has got you covered.
With the BPM detection system, you can get tempo set automatically for all the songs in your library and enjoy continuous sync between tracks; with little audio spectrum to navigate in, locating each sound is a breeze to improve precision of beat matching.
On top of that there are pro audio FX: Echo, Flanger, Reverse, Filter – made possible by our partnership with Waves Audio Ltd. And when you need fresh sounds Edjing has automated Audio FX sync on the BPM (loop/cue/seek) for length and precise beats control; 16 free samples are available as well so don't wait!
There are a million ways to make music. Walk Band is just one of them. Use the built in piano keyboard or find other virtual instruments like bass guitar, drum machine and synthesizer at your fingertips all with studio quality sound.
Enhance your songs by layering up to 5 different instruments at once whether solo or chords mode on any track you want then tweak for pitch, gain & panning with touch controls and keyboard shortcuts that allow for quick adjustments so you can quickly write your song from start to finish (or sing it as well).
Jam out to music like never before with Music Maker JAM! Mix and remix beats, create and share your own compositions, all from the palm of your hand using this mobile app. With over 300 mix packs filled with more than 500,000 loops, you'll find a song for every occasion or mood – make it as dramatic or relaxing as you want! produce songs in any genre including trap, house, pop, hip-hop or dubstep – the possibilities are endless. Record your jams on an 8-channel mixer that automatically sets up perfect levels for optimal performance. Get inspired by gorgeous real-time effects like reverb and delay – experiment with thousands of world class samples to learn new techniques without limits! Either way you choose to make your music, Music Maker JAM has got you covered.
Groovepad is a silky smooth, easy-to-use music maker app that will get your feet pounding. Whether you're new to making or can't stop creating, Groovepad has something for you. When mentioned in press, one artist said "I make magic on this". 
Groovepad's expanded library of tracks and cool FX effects like filter and delay help bring out your unique creativity when recording first-rate tunes—with beats guaranteed to make heads bob.
No matter what genre of music speaks to you most, Groovepad can produce it with a single click (and awesome sound)! Mix Hip Hop and EDM all at once if you want! There are no rules here: You're the DJ!
Beat Maker Pro is a music making app with all the tools for beatbox and making drums groove like a DJ. You can make melodies in just a few simple steps, explore songs of different genres, learn how to create rhythms and impress your friends with the best beats.
Beat Maker Pro combines influential entertainment lovers who love everything about music 'till today: musicians as well as DJs, dancers or anyone else who wants to be stylish. Whip out your phone and follow the instructions right in the palm of your hand!