The world of board games has changed dramatically in the past few years. Gone are the days of Monopoly and Risk, now there's a huge variety to choose from on Android devices.
Board games are a great way to bring family and friends together. They provide an opportunity for bonding, laughter, and shared memories – but who has the time for all that? Well we have you covered with this list of some of the best new Android board game apps out there. These apps will not only help you find your next favorite game, they'll also make it easy to play them on-the-go!
Are you familiar with the popular web series or book of the same title? Well, this game brings your favorite characters into life, and as if that is not enough, it puts you in their midst. The common rule in game of thrones is that when you play it you die, there is no middle ground. Those were the famous words of Cercei Lannister. It is no different here. Lead your forces against other powerful houses to conquer fortresses and castles as you consolidate your defenses since there's always a strike-back. All these troubles are supposed to earn you the coveted throne that will allow you to rule all the houses in Westeros and possibly beyond.
A Game of Thrones has excellent graphics that will leave you glued to your screen for hours. You can face up to 5 other players online to make it even more entertaining. Additionally, the game has multiple variants and comes in five languages (English, Spanish, German, French, and Italian). Finally, it has unique asymmetric gameplay with an excellent start and plays cards for each house. A Game of Thrones is worth checking out this April.
LEAD your house, muster your troops, plan your next move to raid the enemy lines and conquer territories.
WIN strategic battles with the help of well-known characters such as Jaime Lannister or Eddard Stark.
MASTER diplomacy and deception. Forge alliances with the other Great Houses but be ready for the inevitable betrayal. You cannot survive alone in the game of thrones, but only one will be crowned ruler of Westeros.
Gather INFLUENCE to claim key positions in the royal court and take the initiative, crush your enemies, or cunningly outsmart your opponents.
UNITE against the Wildlings north of the Wall or face the consequences of your failures…
Talisman: Origins offers a unique and exciting gaming experience that will keep you coming back for more. You can take control of 12 different Talisman characters, each with their own distinct abilities. The Great Wizard is a new character exclusive to Talisman: Origins. You'll need to battle your way through dragon invasions, double-crossing devils, demigods, and more.
With over 50 hours of content to play through, you're sure to find a new adventure every time you sit down to play. Talisman: Origins also features unique quests that are designed specifically for the game. You can take part in specially designed quests such as commanding a dragon invasion or destroying sacred chapels.
With 100 challenges to complete, you'll have hours of replay value. The detailed interactive tutorial is perfect for new players who want to learn the ropes. And the achievements system tracks your progress through the stories so you can see how far you've come.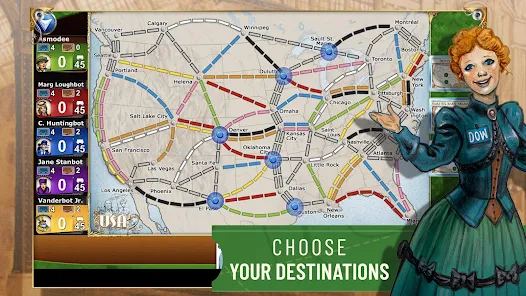 Ticket to Ride is an easy-to-play strategy game that provides a unique mixture of engaging mechanics, presentation, and gameplay. You can play in single-player mode, online multiplayer against the whole world, or local multiplayer with your friends.
The game also features a tutorial that teaches you the rules so you can head off quickly on your adventure. This is the official adaptation of Alan R. Moon's best-selling board game, Ticket to Ride, which sold over 8 million copies.
In addition, the game offers a series of add-ons with special maps and rules. Ticket to Ride is a great way to challenge players all over the world in cross-platform mode.
Legends of Andor is an exciting fantasy board game that can be played by a single player. In the game, you choose to play as a warrior, sorceress, dwarf, or archer and defend the king's castle. The game offers an easy introduction with simple rules and an extensive tutorial for new players.
You can also discover Andor's past through the game. The Legends of Andor was developed by the Andor creator Michael Menzel and games author Jörg Ihle. It is based on the board game The Legends of Andor from KOSMOS (awarded "Kennerspiel des Jahres 2013"). The game can be played in English, German, French, or Spanish.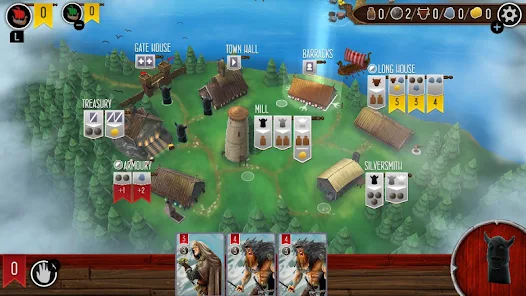 Raiders of the North Sea is a digital adaptation of the award-winning board game. In it, players assemble a crew and outfit a longboat to raid settlements for gold and fame. Impress your Chieftain in glorious battle and win your place among the legends of the North Sea!
The game is played through a series of worker placement turns. On each turn, you'll place one worker, and then recover a different one. This recovery phase gives you an opportunity to strategize and plan your next move. You'll need to carefully manage your workers in order to plunder your way to glory!