Brick Breaker is no longer just the same simple ball that breaks through blocks of bricks anymore. The genre has evolves to become monster breaker, hero breaker with RPG elements.
Breakboard is a brick breaker with different game mechanics. It uses drawing mechanics instead of paddle in order to direct the ball player. You can draw a line to make the ball follow it.
BreakBoard : Brick Breaker is a game where you play brick breaker with levels made by the developer. Break Board features handmade 160 levels and nearly in every 2 or 3 weeks it's planned to add new mechanics, power-ups, bosses battles into the game which means there will be more variety for your gameplay experience!
With so many different kinds of bricks to choose from, there's no telling which will be your favorite! You might even find a new power-up that changes the game for you. And if boss fights sound more like fun than work – this is definitely the place for you!
You have a strict time limit throughout the game, and you will need to carefully manage your ink in order not to run out. If you want more stars at the end of each level, try finishing without running out!
Rabbit Island is an arcade classic with a twist – you get to choose your favorite Rabbit to play as, and there are tons of other adorable rabbits to collect along the way. Plus, the silly enemies add an extra layer of fun. We designed the controls to be easy to use, so you can swipe or point with your finger to aim, choose the best possible angle to shoot, and release to bounce around and defeat all the brick enemies.
In Rabbit Island, players take on the role of a bunny who is determined to defend his carrot coins from an army of invading rabbits. To do so, players must use their agility and cunning to bounce balls off of walls and breakthrough bricks.
The game starts out easy enough, but quickly ramps up in difficulty, forcing players to think strategically about their shots. Each stage presents a new challenge, and players must use all of their skills to defeat the boss rabbit and move on to the next level. With its adorable graphics and simple gameplay, Rabbit Island is a game that is sure to put a smile on your face.
One More Brick is the perfect game for anyone who wants to kill some time without having to think too hard. The objective of the game is simple: shoot balls at bricks in order to break them. However, don't be fooled by the simplicity of the premise, as the game quickly becomes addicting.
There are also power-ups that you can activate in order to make things more interesting, such as the ball duplicator or the double bouncer. And if you get tired of playing the same level over and over again, you can always switch to Endless mode and see how long you can last. Best of all, the size of the game is less than 10MB, so it won't take up much space on your device.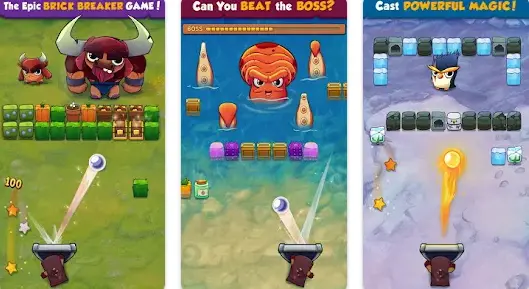 Brick Breaker Hero is a new twist on the classic brick-breaker genre of games. In Brick Breaker Hero, you take on the role of a heroic adventurer who must explore different kingdoms, each with its own unique challenges, in order to defeat the evil boss and retrieve the lost treasure!
The game features over 200 fun and challenging levels, with more coming soon, as well as many different power-ups, and spells your hero can cast. These spells have spectacular effects and will help you on your quest to win each level. In addition, there are also boss and mini-boss fights, each with its own new ability to challenge your hero.
The game is easy to play but difficult to master, with a 3-star rating system for each level. You can also connect with Facebook friends and see who can get the highest scores! Brick Breaker Hero is a new and exciting twist on an old classic that is sure to provide hours of fun for all ages!
Brick Out is an arcade game that will have you blasting your way through tons of fun puzzles! The object of the game is to shoot balls and break bricks in order to earn combos, power-ups, and unique items. You can play offline, and there are no time limits so you can enjoy the game at your own pace. The classic arcade-style graphics are sure to keep you entertained, and the best part is that it's free to play!