In the world of music, sound synthesis is a fascinating topic. As the name implies, it involves the production of sounds by altering an electrical signal to produce musical tones or other types of noise.
While there are many ways to create sound synthesis (from singing and playing instruments to striking objects), one way in particular has caught on as a favorite for many people: mobile-based apps that allow you to change various parameters through your fingers on a touchscreen device.
This blog post will explore some of these sound synthesis apps for Android so that you can find the perfect app for any occasion!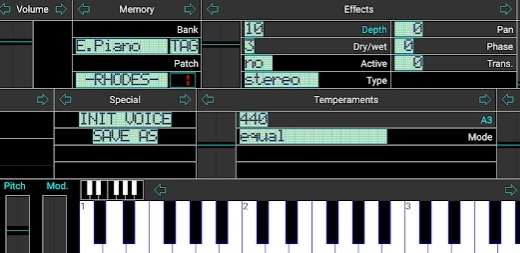 SynprezFM 2 is a programmable polyphonic synth with an expressive keyboard, arpeggio, effects and 1024 instrument patches. It mixes Frequency Modulation (a lightweight synthesis method for generating complex harmonic waveforms) to produce analog style pads, emulate classic or modern instruments, or create new and awesome crystalline sounds. SynprezFM 2 also emulates the Yamaha DX7 by being able to render sysex files you upload into the external storage space set up from menu's effects section in order to heighten your playing experience.
SynprezFM is at home on stages as well as in studios because it opens up unlimited possibilities for sound design and music production by enabling hands-on creativity that will never be exhausted.
EtherSurface is a next-generation performance surface. Play your Android program on the touch interface to explore different scales and textures, from smooth but murky oscillation sequences to warm ambient tones. Sit back and enjoy when you're running low on energy for your usual 45 minute DJ set or just want to do something different!
EtherSurface is proudly powered by a synth programming language used by musicians all over the world such as Benoît Carré, Frank Zappa and Genesis P Orridge –the Csound synthesis programming language.
Turn sound into music with the touch of a screen and take your creativity wherever you go. Saucillator is an Android app that lets you create, play, and share music using synthesizers made with your fingertip. You can use it to mix live or to make sounds for the club – whatever suits your mood. There's something for every ear: we have over 100 presets, many features, and 3 independent slots to build your own soundscape.
Create incredible digital tones from complex sequences to unforgettable melodies in seconds; play live-looping sequences synced between separate apps while performing other tasks; convert notes into MIDI data so they can be used together as part of someone else's composition. Whether you're looking for instant inspiration on set or a complete production tool, saucillator can do anything you want.
QiBrd is a free virtual analog synthesizer. Unlike apps that copy classic instruments like Moog, Korg, DSI, Roland or Clavia, QiBrd synthesizer has been designed to: be more powerful and controllable without exposing the synth engine; have the most possible controls on screen; assign the most possible dramatic timbral change to each control; show an easy interface to make sounds evolve and change even with one single note.
Powerful yet user-friendly design
Latest expansions for creating complex sounds
Deeper integrated effects system for smoothing rough edges
Like the sound of an electric guitar and a trumpet? You'll love what DRC has to offer! With up to 8 voices, this virtual analog polyphonic synthesizer incorporates classical and digital synths from top brands into one powerful engine.
Detune, sync or ring modulation produce super cool sounds making your mixes even more intricate. Put your low pass filters through their paces: 4-pole self resonant LP ladder filter with notch shaping for cutting high end frequencies at very specific frequencies is coupled with 2 pole multi mode filter – LP, HP, BD and Notch modes available! If that's not enough control for you then there are two LFOs accompanying it all. Get creative on a whole new level now with just one sleek app.