As the new year has arrived, many people have taken to their phones in search of a game to play. If you are looking for something that will keep you entertained for hours on end while waiting in line or just passing time – look no further than this list! These games are all turn-based role playing games and each one is a must-try. Hopefully, with these suggestions, your New Year's resolutions can be fulfilled by an Android phone!
In Slash & Roll: Live Guild Raids, players will roll the dice and then attack their opponents. Players can collect shields to help them in battle, and can also send gifts to their allies to help them succeed. become the guild champion by playing with your friends in dice battles and stealing your rivals' gold!
You can create or join an international guild and team up with your friends to attack other people. raid and rush against other guilds in epic matches of 20v20.
Talk with your friends in your guild about what to do and plan your attacks using strategy and tactics. Dominate the rankings and show off your skills in the season. Level up your hero power to help you and your guild succeed. Customize your hero with cool weapons or get items that will make you taller. The more you customize your hero, the more powerful you will become.
Kemco is still producing generic RPG adaptations on Google Play after all these years, and RPG Infinite Links is the most recent release to get an English translation.
This is the premium version, although there is also a free one. Both have in-app purchases, although most of them are not required by Kemco games. In the midst of a worldwide catastrophe, you must use your wits and weapons to save your friends and the planet from an elusive foe. This is a turn-based RPG, and it will be your responsibility to stop a growing conspiracy as well as rescue your pals.
Even with some that can grant any wish, talismans are magical items that contain a significant amount of power. Serene, a girl who believes she is the reincarnation of Kronos, and Kronos, a boy training to be a wizard, are entwined in an Talisman mystery. Will they be able to save themselves and the world from an apocalyptic menace?
To turn the match in your favor, acquire talismans that provide skills and deadly moves to use in turn-based fights.
Weapons, Armor, and Talismans can all be enhanced by forging and upgrading them with materials.
There are also tactical components, such as battle formations and traps, as well as a wealth of missions, arena triumphs, and monster trophies to complete!
Set out on a grand adventure with the brave and cheerful Dai and his team of warriors to defeat terrifying monsters and battle huge bosses-all for the sake of banishing an unspecified evil! Dragons: they've always been your number one priority, and Dragon Quest: The Adventure of Dai is no exception.
Dai promises to his mentor, meets new companions, and gradually discovers his own inescapable fate while the world is once again faced with a crisis.
This is where Dai's tale begins, and his journey to become a real hero!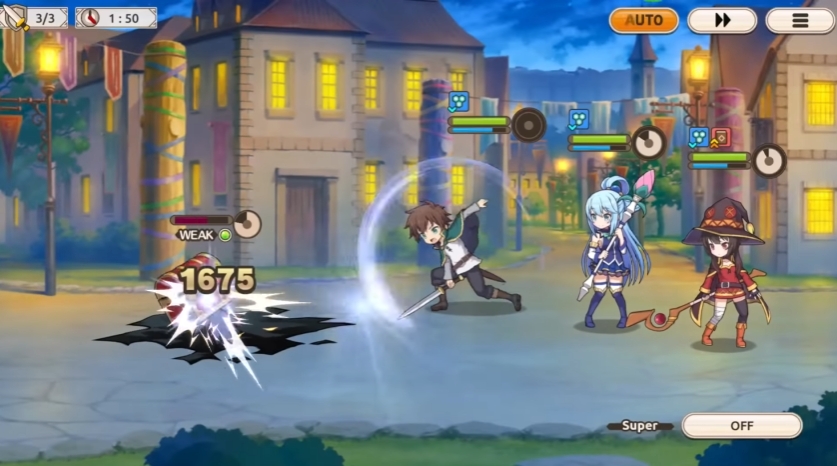 In KonoSuba, you take on the role of the hero who must save a world under threat from the devil king and his army. To do this, you must summon members of a harem to help you in battle.
This may not be the most conventional game out there, but it is sure to please fans of the KonoSuba anime and manga series. Plus, you get to collect some cute anime girls to decorate your phone. What's not to love?
Join Kazuma and his friends on an epic quest to save the realm from the Devil King. With beautifully animated scenes and expressive characters, this game captures all the best moments from the series. You'll also find new stories and meet new friends along the way.
Heroes War: Counterattack is a perfect combination of turn-based RPG and action genres. You will recruit mercenaries, collect equipment, and upgrade skills/abilities to be come a hero of every battle.
The Z-virus has killed more than a third of the world population, turning the world in to chaos. Prepare for an epic battle in this post-apocalyptic world with characters fighting for different sides!
Battle with friends and guild members on an adventure. They will help you get new things like weapons or power up your skills, so that you can become the hero in this game. In Heroes War, you can battle in a campaign, go into dungeons or fight in the arena. You can also take advantage of planning strategies and using skill to defeat your enemies.
You can use the Mercenary facility to upgrade your current mercenaries and recruit from a group of different heroes each time, in order to maintain an advantage on enemies, customize the skills of your player-controlled mercenaries to become a hero in the Arena.
The game has a realistic battle system, where you can control your character and attack from any direction. Use the Rage Skill for counterattacks in real time battles that change directions as you combine attacks! Master exciting combat gameplay when fighting against players from around the world!
To get all the achievements you need to group up with friends and play cooperatively. And joining a guild can make it easier to complete missions as well as enjoy friendly matches.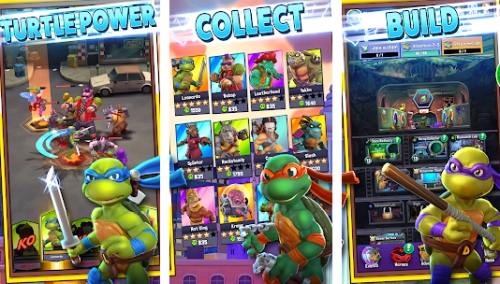 It is precisely as you would expect. The game allows you to play with ninja turtles and to save the world. All names are available here. Your only task is to find the right friends and allies and become stronger than your enemies. Dimensions are in great danger!
Join the Teenage Mutant Ninja Turtles, Raphael, Leonardo, Michelangelo and Donatello in a fight to save Dimension X.
Gather your team of heroes (and enemies) including Krang and Shredder from franchises across space time for battle!
Collect ooze scraps or gems that equip special weapons: swords-a-blazin', hammers poundin' etc., then power up with upgrades like new secret lairs & joining clans.
Power up and level-up to increase your team power.
Ready a team of TMNT legends (and villains) for tournaments, PVP fights and the ultimate battle against Shredder!
ATOM RPG is a post-apocalyptic RPG. It borrows the best elements from classics such as Fallout and Wasteland, while also bringing its own unique flavor to the genre. The game is set in an alternate history USSR, where the player must survive in a nuclear wasteland.
The game's powerful character creation tool is aimed at making the wasteland hero you want to portray. With balanced offline single player roleplaying, each stat combination provides a unique cRPG experience, unique dialogues, and new ways to solve some quests. Dozens of skills are available, from lockpicking to gambling.
Many hours of gameplay in all sorts of locations are waiting for you. You can meet the other survivors in a brave new settlement, built from the remains of the old world. Explore the area around you, where there may be mutants and bandits. Investigate an old military bunker to learn its secrets. Or simply lose yourself, fishing at a scenic spot. The choice is yours!