Adventure games have been a popular genre for over two decades. There are tons of different adventure games on the market, but none can compare to what's available on Android.
If you're looking to download a few new adventure games to your phone, look no further! This blog will review the newest releases in Android gaming that are sure to keep even avid gamers entertained! There's something for everyone here – action-packed adventures, humorous stories and more. So sit back with your coffee or tea (or whatever), relax, and get ready to explore these amazing worlds right from your phone screen!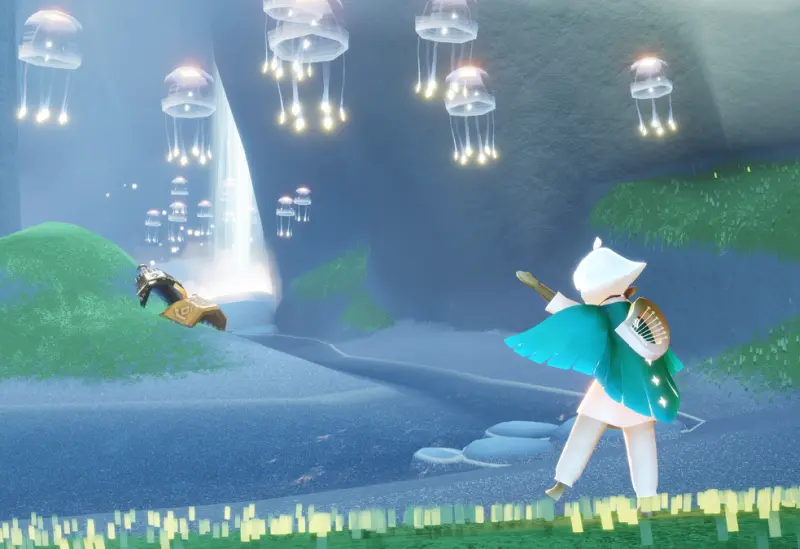 Sky: Children of the Light is a social adventure game that takes place in seven dreamlike realms. In the game, players work together to save spirits in each constellation and set them free. The story adventure revolves around bringing lost stars home. Along the way, players will meet new characters, unlock unique stories, and encounter other friendly players online.
In Sky, you can soar above the clouds, play instruments, or just relax and enjoy the beauty around you. The world is ever-expanding with new upcoming attractions, seasonal events, and expansions of realms, and is designed to be an uplifting social adventure that will warm your heart.
You can explore the open world solo or with friends to experience all the Sky has to offer. Additionally, you can unlock items, like Winged Light, to help you traverse the world more easily, and level up and express yourself through your character with unique customizations.
The game is designed to promote positive and relaxing interactions between players and to encourage them to explore the world together. Sky: Children of the Light is an MMORPG of timeless wonder that allows players to connect with each other on a deeper level.
Woven Pocket Edition is a port of its PC version, Woven which had some success on the platform. Now it has made way its over to the way to mobile mobile platform and fared well.
Woven Pocket Edition is a narrative-heavy puzzle game with a fine story. One drawback is that the game has some control frustrations. The game Woven is an enjoyable 3D adventure game. You can try it before you buy.
From woolly creatures to a clumsy, well-meaning Stuffy who roams the woolen world alone.
Join Stuffy and friends on their adventure through the magical world of fabric, wool and many dangers, in order to find out why Stuffy is left behind, where machines suddenly come from, and many other mysteries!
In the world of Woven, there are obstacles and challenges. You will have to find blueprints of animals to modify Stuffy' shape and abilities. For every situation there is something that fits, and animals are no exception.
When you're traveling around the world, be sure to note paths that don't look like they go anywhere. They are hidden paths. You can learn about the world's history through found secrets.
Features:
Stuffy can be customized with different fabrics and body parts. There are 100+ hidden fabrics to find.
You can mix and match different animal blueprints each with their own skillset.
A fully handcrafted world is waiting for you to experience.
The game contains a variety of unique worlds where each level has its own musical and visual style.
Amanita Design is most famous for its Machinarium point and click adventure game. However, the Samorost series which is more familiar to gamers is the first title that was released on Android. Both Samorost 2 and 3 were already available on the Play Store. This means that 1 is the last one to be released on the platform.
This PC Classic game has been remastered specifically for the mobile experience, bringing new life to an old classic by tweaking the graphics and sound effects just enough to make it seem fresh and new, but still having that characteristic Samorost feel we all love.
Samorost 1 is the original and best! This game has been remastered to look better than ever before and with sounds that have been enhanced. You'll love this old school space gnome game. Explore little beings' past lives on planet Earth like never before!
Try surviving without any instructions or tutorials — you'll never know what kinds of surprises are in store as you solve puzzles from easy-peasy to difficult-to-slightly challenging!
With hours of gameplay, beautiful visuals, and a heartwarming original soundtrack created by Floex, this nostalgic yet novel experience is a must-have for your Android game collection.
Although an experimental meditative game, Pigeon is a revolutionary game that would allow you to explore a 3D map of London. However, you will have to do this as something else, entirely different from your actual self – a Pigeon. You are required to use your unique skills to locate your Pigeon-shaped soulmate.
Pigeon: A Love Story is indeed a strange game. It is not for the mass. The game gives you no hints, no clues, but just lots of pigeons. It's not going to be easy to find your soulmate among 1 million of pigeons. Yes, you didn't read it wrong.
The game features over 1,000,000 pigeons, and thousands of real London buildings. With that many models in a screen and big environment, the game is graphically intensive. So to play smoothly you need to play it on a modern, high powered smartphone or tablet.
You device need to have WiFi or mobile data enabled because it live streams real data of the map of London.
However, it also supports offline mode. There is a mode called a limited offline mode, set instead in a randomly generated cityscape. You can save your progress offline, then switch to online later.
Forager is a 2D game with open world map inspired by other farming, exploration and crafting games. Forager allows you to forage and gain rewards for it. The classic 2D game allows exploring, farming and crafting things. Gather resources, use them in a clever way, craft resources, build a base and expand it. Explore, level up and discover new abilities – complete a few puzzles in between as well.
The Forager game is an open-world survival, collector, crafting and exploration action adventure RPG video game. Explore a vast map to find settlements that sell materials such as wood for your campfires or clay for pottery which help you progress through the easy-to-use UI.
Loot ruins while exploring dungeons of diamonds or steel! Raiding loot will provide gems so you can buy land from other players in order to expand your base with more room for resources.
The emphasis on resource management and survival mechanics like hunger & thirst make the Forager game much more challenging than many games like Stardew Valley.
Meticulously manage resources like animals populations since tending your livestock consumes just enough time without having to worry about what could happen next.
In one hand users need shelter from the dangers of the environment; while in another, craft abundant resources with which they can trade for land or items needed for survival.
Players can explore freely through impressive randomly generated worlds made completely out of pixelated blocks that represent all types of terrain such as marshes, mountains, deserts and forests by day or night within this beautiful low-poly visual aesthetic unique among games today.