I'm sure that many have been in a situation where you hear a good song on Youtube or in a movie but you could not figure out its name. Without any clue about the song's name or lyric, it is impossible to identify it. Fortunately, there are song finder apps available for Android devices, which can help you identify a song just by letting your phone hear a part of the song or humming into your smartphone's built-in mic.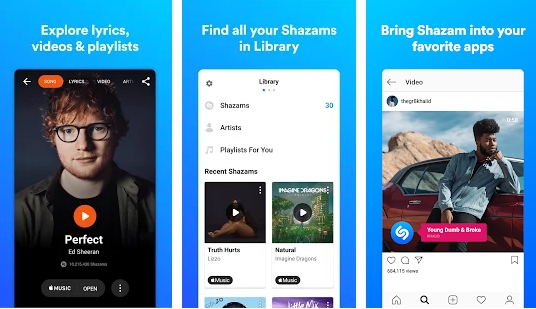 Shazam helps you to identify your favorite song in just seconds. The user can search the music itself, artist, album, lyrics, videos, and many more, all for free. Shazam is the most preferred song download platform with over one billion installs so far.
The makers and users alike have described it as magical and a gift to the modern world. There is no song in the world you can't find with Shazam. All you have to do is search the song's name on Shazam, and there you have it.
With Shazam, you can quickly find out the name of any song you're hearing. When it detects music in nearby surroundings — at a restaurant, bar, party or club for example — just tap to hear the track and add to your Apple Music playlists. From there, follow along with time-synced lyrics while watching its official video from YouTube or Apple Music without even leaving the app!
You can also listen offline by enabling Dark mode on Shazam for uninterrupted music listening experience without sacrificing content quality. The best part? No data connection required means not much hassles when travelling overseas because it turns itself off so that nothing interrupts your jam sessions.
SoundHound is the best app to discover songs around you. The app allows you to find out the song being played by your neighbor, friend, or just a stranger. Just open the SoundHound app anywhere, and it will tell you which song is playing. Additionally, the app maps the exact location where you heard the song play and enables you to connect your Spotify account to build playlists. The big orange button allows the user to discover the song title, lyrics, and artist. The best part is that you get to play the songs you heard for free. You will also get a chance to know the day's top songs by merely searching for your favorite song.
Sing all your favorite songs! SoundHound is innovative and makes every song easy to find. With music lyrics, karaoke features, personal history page where you can track your discoveries, and expert recommendations for the most popular music on Spotify streams and charts from around the world. Expand your musical repertoire today!
Believe it or not, Musixmatch is the world's most extensive collection of song lyrics for all genres. Millions of people use the app to locate synced lyrics from across the globe. The app is connected to powerful music platforms such as Spotify, Youtube, Google Play, Apple, and more. Most importantly, the Musixmatch allows you to translate excellent songs from a foreign language to the one you understand. Its main features include exceptional song search capabilities, translation, and real-time notifications. Download it today and experience digital music with style.
Musixmatch is the only app that lets you tap to see lyrics for your favourite song and learn new languages by displaying translations in time with music. Flip through a library of 50 million songs from Spotify, Youtube, Pandora, Apple Music, SoundCloud and more on your iPhone or iPad. Get identified lyrics just by listening! Tap to read them in real-time even while paying attention to something else – without ever unlocking your phone.
Musixmatch channels are the best tool for gamers who love playing games like Clash Royale where sound effects sync up with background music! To top it off, you can enjoy all these wonderful features as much as you want without paying a single cent….