You can have our favorite Korean songs with you everywhere with K-pop apps. It's so much easier to listen to new K-pop songs or to read news about your favorite idols.
Top 5 Apps for K-pop fans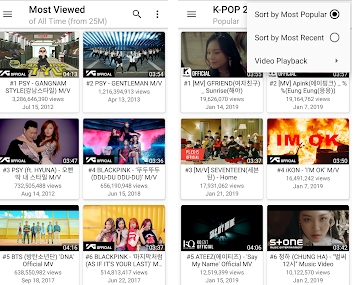 This application is basically a tube playing app focused on the newest K-Pop music – trending videos, new releases and so on. You can also check out recent videos, popular videos and even the most viewed videos. It covers K-Pop music since 2008, so you have a good library to explore. The app works in conjunction with built in players, such as the YouTube app.
K-POP Tube: want to know what the latest K-pop music is and where it's trending? Download this app now! With YEARS worth of KPOP videos from 2008-2021, including recent popular videos and those most viewed over all time. You can even watch them in your favorite video player or YouTube app. The built-in player will keep playing continuously, so you won't have to stop every few seconds. The newest available KPOP content will be at your fingertips after downloading this amazing app!
Are you a true member of the iconic K-Pop fandom? Recently, CHOEAEDOL has been launching to provide fans with more ways to express their love and support for their bias by using their hearts. In addition to voting by ranking on the real time votes list or simply giving 1 heart, it's easy now to post content that shares your biases' activities such as interviews, performances and other moments usually missed in between.
Vote for your favorite K-Pop music, discover new videos, hit on videos and pictures, share your favorite musicians' schedules, support fundraising events and so on. Ranks are reset on a daily basis, but this is not everything. There are numerous puzzles, trivia games, chat rooms, friends and games to figure out who you look like.
Providing free access to everything you need to know about K-Pop music, TV shows and series, the app allows you to discover videos and shows featuring your favorite artists. It comes with an intuitive interface, quick streaming over the YouTube app, notifications for new videos and playlists for your favorite music and shows.
Soompi makes an excellent virtual K-Pop magazine. It makes no difference what you are after – breaking news, new releases, featured articles, quizzes or competitions. You will always keep up to date with unexpected comebacks, news, relationships and drama. As long as it trends, chances are you will find it on Soompi – new updates whenever you go on the app.
This music game is basically an amalgam of 22 different K-Pop related games to try out. Whether you are into quizzes, arcade games, puzzles or trivia, these games will keep you hooked in for hours. The application is available in five different languages and new games are added on a regular basis, so there is always something new to try your skills on.