There are many ways to keep time on your Android device. From the widget that is always visible, to the ones you can download from the app store, there are plenty of options available for keeping track of what time it is. In this blog post, we will share with you our favorite 5 free clock apps and widgets!
5 Best Free Android Clock Apps and Widgets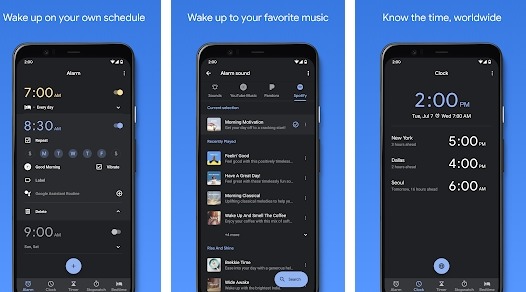 Google Clock App is a useful app to keep up with life as it pulses. Whether you're setting reminders for the day, counting down an event on your calendar, or just eyeing that time to turn off the lights and get in bed, this app has all of your needs covered.
With its high-impact design, it'll help light up your day and make sure you're never late again.
Keeping track of those hard-to-remember moments can be tough from moment to moment; that's why Google Clock App packs everything together neatly into a package so simple and easy you'll wonder how you ever got by without it.
Your clock and weather, always in view. This Digital Clock & Weather Widget lets you see the time and stay up to date with local weather conditions, while making your homescreen more personalized than ever before.
It is one of the most customizable widgets available on Google Play with 18 fonts to choose from and several different sizes, depending on what best fits your home screen design.
Features include current location-based weather information, climate data including forecast information from various locations around the world for six days forward as well as other useful info like daylight hours or air quality conditions appropriate to where you are located now accessible by tapping away at quick glance!
Beyond that it will make an excellent base for organizing important alarms too little tapped nowadays also immediately launching any app you want like clock or camera when tapped.
The Digital Clock Widget for Android is an amazing new application designed to digitally display the time and date.
You can customize it with millions of colors, and even resize it on your home screen as you wish! This digitally accurate app ensures that you never have an off-kilter clock ever again.
The Digital Clock Widget offers incredible features like Material Design UI, next alarm support, and all sorts of customizations to provide a truly one-of-a-kind experience.
This widget also includes next alarm support which allows you to see what's coming up right from your home screen, so you'll never miss another appointment or meeting again!
It is always on and has a large LED display that can show the day, date, as well as an extra-large digital clock in any color you choose! Easily change font size or configure how you want it displayed. You won't have to worry about orientation too because its automatic and features landscape or portrait modes. Not enough space on your phone screen for all of this information?
All you have to do is glance at your screen and you'll instantly know what time it is, every hour of the day. This digital clock has four customizable clocks for totally accurate representation of all your timings.
The Daylight Savings Time can be automatically detected at first launch if in North America, China or Taiwan; once synchronization is done with a network, it will get DST settings from there automatically if not already set manually.
The app's stylish digital display can render digits as big as 3″ high digits (12mm) to some extra-large 7″ (21mm) high digits that are close enough even for short folks like me without my glasses.
This Desktop Clock will help keep you focused with its eye-catching design and white noise. It also features flipping pages to show time, making it perfect for usage on your phone.
It's simple, modern and a little bit funky flipping clock design will help you stay focused on your tasks while keeping a stylish addition to your work space. With no fancy options to distract you, this digital flip countdown can keep things simple and help you get into a productivity zone with just looking at it.
There are tons of different options that you can try, including black backgrounds with rainbow texts or living plant displays!