Clicker is one of the genre with fun and addictive gameplay. It combines many features while keep players hooked with numbers such as levels, damage.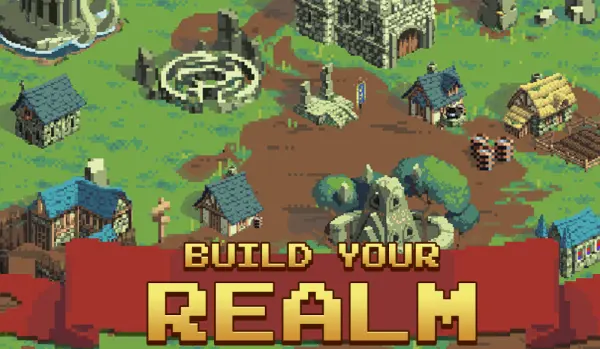 If you're looking for an in-depth idle game with tons of different ways to play, Realm Grinder is a great choice. In the game, you'll take on the role of a ruler trying to grow their kingdom from humble beginnings. You'll need to make decisions about which factions to align yourself with, what kind of buildings and upgrades to invest in, and how to use your money and influence to best grow your realm.
There are hundreds of different upgrades and buildings to choose from, so you can really tailor your strategy to your own liking. And since the game is idle-based, you can still earn money and progress even while you're not actively playing.
There is tons of content including new factions, research, excavations, and more. There are hundreds of achievements to collect and many strategies that rely on collecting trophies in order to boost certain upgrades. There are also frequent events where players can enjoy unique mechanics and exciting bonuses. The game is extremely easy to play and very addicting. I highly recommend it to anyone who likes idle games or RPGs.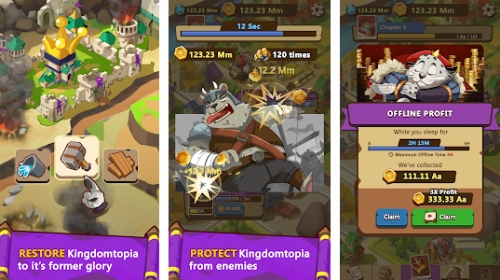 Kingdomtopia is an animal kingdom that was almost completely destroyed by an enemy. Now, Pug the prince wants to rebuild the entire kingdom and to make it strong and successful once again. Your task is to do that by rebuilding the areas, economy and so much more.
After living peacefully for years, Kingdomtopia was invaded by an unknown enemy. This war left the entire kingdom in ruins and even led to the death of King! Play as a fledgling new king who must rebuild your father's kingdom back to its glory days with help from Pug after this tragic loss. Restore districts, renovate and expand your empire so you can bring peace and prosperity back to loyal citizens that have been longing for their homeland they once knew since before it all fell apart during invasion!
Rule your kingdom as the Idle King and manage a land of adorable Animal subjects with varied personalities. Meet interesting characters from across the lands, amass wealth through trade or gold mining to grow even more wealthy while away, invest in districts for increased profits that will be collected automatically by mayors you hire who are loyal vassals sworn to serve their king diligently.
With a swipe of your finger, you can rule over all the creatures in Kingdomtopia. These people will do anything for their king as long as they are given ice cream to eat and some rich resources along with fame across the land – so make sure that these mayors stay happy! Different types of animals have different needs too; pay attention to them when you're giving out commands!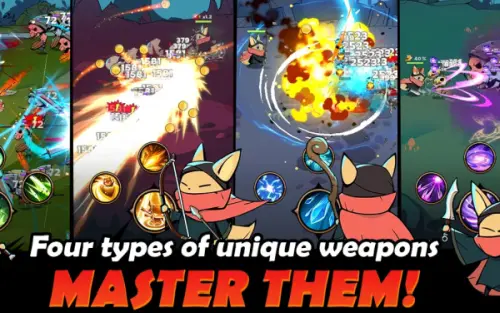 Tailed Demon Slayer is an exciting new-action idle hero game that allows you to explore the possibilities of battle and skill while you fight your way through hordes of zombies. In this game, you take on the role of a hero who is tasked with saving the town of Bestia from the clutches of an evil king.
The game is full of opportunity, and you will find yourself constantly challenged by new and powerful enemies. However, with each victory, you will also grow stronger and more skilled, making it easier to take down future foes.
You get to explore different dungeons, hunt different monsters and bosses, and collect equipment and weapons to make your hero stronger. The game offers four different types of weapons for you to collect, try, and master, and each one has its own unique capabilities.
With tons of amazing equipment and costumes available, you can create a truly unique character that is tailored to your own playing style. And with the option to use runes, gems, relics, and skins, you can further customize your hero to make them even more powerful.
Idle Harbor Tycoon is one of the best idle clicker games these days. Here, you will learn how to operate your own cruise ship business. You will start with one terminal and a dock. It is all up to you to build the whole thing up by purchasing better and bigger ships, upgrading various facilities, and researching technology.
Do you enjoy boats and traveling? Have you always wanted to be a successful entrepreneur and be your own boss? If so, then become a harbor tycoon! You can build your own harbor and buy new boats and ships. You can also research more technologies to try to be the best harbor tycoon in the world.
Idle Harbor Tycoon Tips
However, these are not simple tasks. It needs skills and knowledge. That is why we are giving you this Idle Harbor Tycoon tips.
Multiply Your Profit
In this game, you need to see a series of ads to maximize your profit. There's a power-up button located at the base of the screen. Once you press it, you will access the income multiplier page, which gives you a chance to double your profits. But you only have 12 hours to do so.
Unlocking Divine Touch
Upgrading your Divine Touch is very important. This will give you the power to hold on the screen for a few seconds that allows you to acquire more passengers. When you upgrade your Divine Touch the number of passengers you get for every second will increase.
Searching for the Reward Boat is Vital
One in a while, a shimmering boat will roll in the harbor. Once you tap it, an advertisement will come up. If you watch the ad, you will be given a gem or cash. Always watch the ad to earn more gems. The cash rewards will increase; it all depends on your development in playing the game.
Don't Upgrade Terminals and Docks Too Fast
You need to spend a considerable amount of cash on upgrading terminal and dock. You will see that unlocking any of these features will augment the upgrade value of the others. So, instead of spending your cash by unlocking these features, keep them at an even level. It is better to check if you can fill them up.
It is highly advisable to spend your money on research. Upgrading a terminal or dock is needed if you see that it's already 70 percent capacity, and you're about to log off. Upgrade it if the capacity is below 50. In this way, you spend your cash on space that you'll use.
Make the Best Out of the Research Tiers
In this game, there are lots of multiple tiers. You'll have to spend a certain amount in lower ones to upgrade higher tiers. Although, you already upgraded higher ones, it is advisable to try to maximize first the lower ones. If there is available cash after buying lower tiers, you can use it to unlock higher-tier research.
Develop a Harbor
There is a boat logo located at the left corner of the Idle Harbor Tycoon screen. When you press it, you have the chance to access the development screen, which allows you to find new boats. You need to spend a lot to discover this development. However, they augment the basic value of the tickets, so meaning your total earnings will be multiplied later on.
Complete the Mission
Next to the Prestige button you will find an icon that has an exclamation mark. Click it to access the Missions menu. The game provides you with missions that you have to complete. The tasks will help you in keeping track in terms of your progress. When you complete the mission, you will be rewarded with cash and gems. Ensure to claim these rewards once you finish the task as the next one would not appear until you do so.
Here are just some of the Idle Harbor Tycoon tips you can follow to become successful in playing this fantastic game.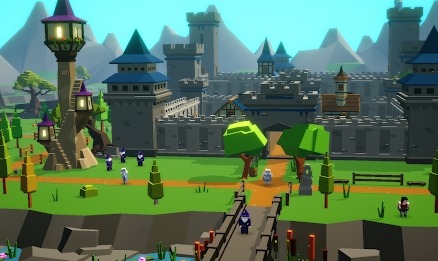 In this tap idle clicker, you'll get to build your own medieval town, grow your kingdom, and become king! Your fantasy empire is waiting for you, so download the game for free today and get started on building your dream village in multiple lands. With every new land you conquer, you'll earn gold coins and collect cash from your village's various businesses – like the castle, market, inn, and more!
Plus, you can upgrade each of these buildings for an even bigger boost to your earnings. Once you've become a medieval billionaire tycoon, there's no stopping you! And be sure to take advantage of the idle loot quest rewards that you can earn – invest them wisely to keep your village thriving for generations to come.
Make wise investments and increase your income, hire advisors to boost your productivity, and complete quests for extra rewards. With the wizard's help, you can speed up time or double your earnings for a day. You'll never need to worry about being offline -your village will keep running even when you're not playing.