So, you've recently discovered the unique perks of playing the ever-favorite Super Hotel Tycoon and still looking for some useful tips to maximize your overall playing experience. Brace yourselves as we unveil them one by one!
Want to be the richest man in the world? (At least in the game!) Super Hotel Tycoon allows you to manage your own hotel business. Developed by ModooPlay, it is a simulation game designed both on the iOS and Android mobile platforms.
You will begin with a little 3-floor hotel and you will need to get your first cask of gold. Then, flourish your business, get as much room as you can, begin excellent business house, and construct more floors. Earn more money to start building and managing more chain hotels across the world.
We know that you want to be a successful hotel owner in this game, and start by following these tips:
Unlock more empty rooms
You'll basically start the game with only one room. So as you earn money, make sure to prioritize first unlocking new rooms to double up your profit. Those rooms at the bottom of your hotel are the most recommended ones to open up initially.
Unlock the business area
The business area can be found on your hotel building's left side. Unlock and manage it to earn extra income in the long run.
Upgrade the rooms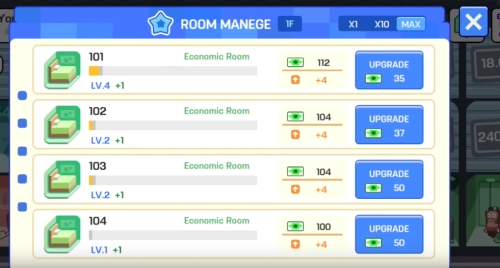 After unlocking, ensure to upgrade the rooms. Here, you have three upgrade options: one upgrade, 10 upgrades, and maximum upgrades at a time (depending on the money you have).
Expand your hotel
Add a new level to your business area and more rooms to open up new hotels. Check the requirements provided in the menu with a green star. Make sure to meet all the requirements for you to make the upgrades more efficiently.
Hire hotel employee
Hiring some types of people to help expand your hotel business would cost diamonds. However, they are of utmost assistance to increasing your overall income.
Get more diamonds and double your money by watching ads
A "Boost" option located in the left side of your screen allows you to watch advertisements. These will help in doubling your income and eventually, making your upgrades and unlocking of various features a lot easier.
Take advantage of the investment offers
Another way to claim free cash and diamonds. A speech bubble pops up on the screen's right side every few minutes. Tap it immediately once you see it. This speech bubble is from a prospective investor that gives cash or diamond in exchange for watching a short video ad.
Check your achievements
The Achievements will be your another best option to get premium currencies and diamonds. Although, the specific amount you'll earn depends on the milestones you achieve.
Boost the star rating of your hotel
The star icon is located at your screen's top right section. Here, you'll see the current star rating of your hotel, the requirements for the next star, and the benefits you were capable to unlock. Meet all the requirements needed and a specific amount of cash will be given to you.
With Super Hotel Tycoon's excellent graphics, interesting gameplay, and good management along with these efficient tips at hand, you can now unlock its game potential!