Android ad blockers are a great way to protect your privacy and block ads on Android devices. However, there can be a lot of confusion when choosing the best Ad Blocker for you. Some websites will list their favorite ad blocker as the best one, but this may not be true for everyone. We have researched and tested many different types of ad blockers in order to find out which ones work the best according to our criteria: performance, ease of use, size on device storage (less is better), number of ads blocked (more is better). Our top 5 Android Ad Blockers are listed below!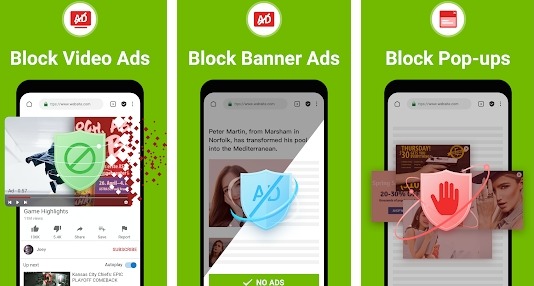 The free adblocker browser (FAB) is the best way to browse the internet and avoid video ads, banners, popups and more. With FAB you can enjoy a clean fast and private browsing experience that's easy on your battery. The FAB mobile browser will help block annoying pop-ups without ever redirecting you to an unexpected page.
Get better battery life with this best in class adblocker for both Android browsers and iOS browsers built by experts in adblockers!
Leave pop-ups, banners, and video ads in the dust with Adblock Browser. This browser will let you browse free of any interruption as it takes blocking to a whole new level. In ABB's sleek interface, everything is clearly laid out so you can navigate with ease while preventing those pesky annoying advertisements from spoiling your browsing experience. Stop advertisers from sucking up your precious data and battery life!
Get rid of most online distractions so that the web is finally back for what it was originally intended: interactive communication between humans (whether that be chatting with newfound friends or conducting important research).
Introducing AdShield, the lightweight ad blocker for your Android. Unlike other blockers that require root access, AdBlock does not need any special permissions to work! With over 20 million downloads on Chrome and Firefox browsers in just under a year, turn your browsing experience into a breeze with AdShield.
With no more ads hounding you around every corner (and in some cases even hiding malicious software), the web will feel faster than ever before. And while it's hard to find anyone who misses those annoying click-bait titles, loading times should be noticeably lessened as well – thankfully we've got you covered there too.
AdGuard Content Blocker is a free Android app that blocks ads in the Yandex browser and Samsung Internet mobile browser without root permissions. This AdGuard's ad-blocking app works specifically in these two web browsers and does not show any ads, including video/heavy media advertising.
The content blocker for Yandex and Samsung Internet also saves battery consumption because it closes high energy consuming targeted ads from loading on your device all at once with just one click. You deserve to save time by being able to leave the house without carrying around a charger as well as treat yourself to some enjoyable reading or gaming experience on your phone, tablet, laptop, etc., both of which are prolonged by this easy yet powerful adblock tool.
Blocker is the best free website and adult blocker application that can be used to block any URL or domain on all browsers. It blocks all the adult sites without getting detected by your employer or college, and you can use it as a parental control app for parents to bypass VPNs to filter websites like Facebook and Instagram on different devices.