We all know that the best way to save money is to spend less of it. Managing your finances can be difficult, especially if you're not good at balancing a checkbook or paying bills on time. Thankfully, there are many apps for Android that can help make this process much easier and more enjoyable! In this blog post, we'll talk about 5 great apps for managing your budget and saving money in general.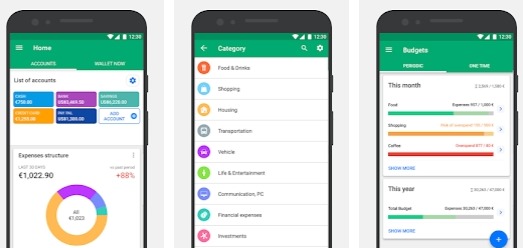 With Wallet, you can easily track and keep within your budget. Whether that be for clothing, food, rent or college tuition – check every penny with the app's interactive reports. Easily manage an existing debt through the "Manage Debt" section of the app which automatically figures out how to put more money towards it each month. Stop stressing about what you spend and start managing your budget today!
And since there are 3500 participating banks worldwide that participate in Wallet transactions are automatically and securely synced then smartly categorized transactions are automatically and securely synced then factored into budget necessary; after taking a few business-length seconds it looks like you will be able to pay off some bills that had been nagging at you for weeks or months on end.
It's important to always stay on top of your money, and with Account Book you'll never miss an expense again.
Add monthly bank transactions or salary entries from your employer without the hassle of manual bookkeeping.
Create categories for expenditures like food, groceries and entertainment so it's easier to see where your income is going.
Make new budgets often to find the right balance that works best for you! Track everything in one place and take control with Account Book today!
Money Lover is the perfect tool for every individual who wants to shed their worries when it comes to managing personal finances. It keeps track of your money, simplifying your expenses and incomes categorized by date, group or type. With Money Lover, you no longer have trouble with budgeting daily spending habits and can rest easy knowing that all the information is on one single device!
Budgeting is about having an idea of where your money is going and how you can do better with it. The easy way to stay aware of your financial inferences, Money Manager Expense & Budget simplifies the budget planning process by mapping out a spending timeline for you. To keep on top of your assets, have a look at what's getting spent and where!
Keep track of your money and be a financial advisor, all in one place with Money Manager. Watch the graphs as you watch your budget!
1Money is a money-management app that lets you create a budget and track your spending with the simple touch of your finger. You can input transactions, view an expenditure timeline, and explore more than 500 expense categories to see where your money goes over time.
1Money is great for long term planning because it provides food for thought about how much of what should be saved or spent on everyday items.