The world of medicine has changed drastically over the years. With new technology in healthcare, doctors are able to diagnose illnesses and provide treatment much quicker than before. One of the side effects of this new development is that it's become more difficult for those who have health conditions to remember what they're taking and when. This article will explore 5 best medicine tracker apps for Android so you can find one that works with your needs!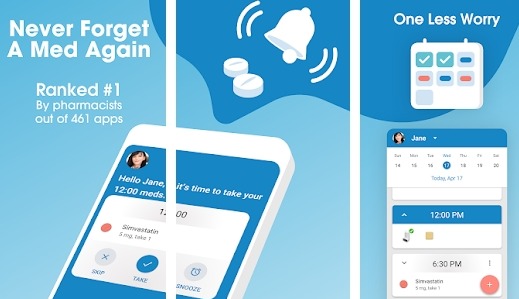 Medisafe is the latest, most advanced and supportive medication reminder every patient has ever needed. Organize your daily medications on customizable screens, use fantastic tools to ensure that there are no drug-to-drug or interaction problems and get immediate support for complex dosing regimens from Medfriends if you need it.
For routine things like refills and appointment reminders as well as those oh so important medical conditions we cannot forget–even when life gets hectic–Medisafe will be there for you. Along with all the basic features which make remembering everything easier than ever before, this newest version of Medisafe introduces many new layers of functionality designed especially for adults who take care of children.
The award-winning MyTherapy medication reminder app ̶ an ad-free, intuitive pill tracker and mood journal. MyTherapy is more than a free medication reminder: Combining a pill tracker, mood tracker, and a health journal, e.g. with a weight diary this medication reminder app does it all to help you stay on track. Stay organized from your kitchen table ̶ and get back to living life!
Mood Tracking System: Keeping tabs on how you feel as well as what medications are taken can be mutually beneficial for the user's medical practitioner and we understand that) keeping such records may not always be straight forward.
Medication Reminder is the most free and easy to use app available for storing medications schedules. After inputting dosage times, start dates,and number of pills, it will then allow you to edit those values in the next screen – no more worrying about forgetting what was wrong with your medication. Use Medication Reminder to keep important information accessible at all times!
Tired of never remembering when you need to take your medicine? This medication tracker is the perfect app for staying on top of all your medications and reminds you at the right time. Get complete control over your health!
Keep track of how many times in a row you have taken each dose, view your historical logbook, set dosage reminders and alarms – it's all here for the first time! Choose from multiple profiles for different family members so that everyone can be tracked. Don't worry about forgetting or overdosing because this med reminder will give an alarm if there may be a problem.
Medfox achieves this by staying on top of patient's various medication needs. It provides the peace of mind that one can be prepared for all possible situations; it allows them to have their medications monitored and reminders sent on time when necessary ensuring strict compliance. Additionally, Medfox offers a map where patients can locate pharmacies near them.