Do you find that texting is easier than talking? Do you love to use emoji's when communicating with friends and family? If so, then this blog post is for you. We've compiled a list of the best Android apps for emoji, kaomojis and lenny face which are available on the market today. These apps will allow your phone to have more functionality and make it easy for you to express your feelings in an instant!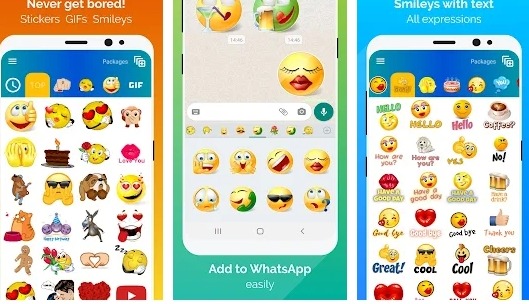 WhatSmiley is an app that has 1000s of creative smileys, catchy emojis, and animated GIF stickers. WhatSmiley be used in a variety of social media platforms such as WhatsApp, Facebook messenger, snapchat text messages (MMS), viber or other messengers.
WhatSmiley also includes funny GIF stickers to help you express yourself on all your favorite messaging apps! Get everything you need to craft the perfect emoji from our emoji library filled with many different themes including animals, food and drinks any many more categories.
Japanese Emoticons – cute faces (Kaomoji), created from symbols and signs (Text emoticons). Japanese smiley – Japanese Kaomoji app, helps you quickly copy and paste a smiley into a text message. You can also send a Kaomoji to your friends. Attached is a large list of Kaomoji. You can find a emoticons on any topic and for any occasion.
Find the right emoticon is very easy as all japanese kaomoji are categorized including animal emotions, happy birthday messages, entertainment icons etc.. Create an ASCII faces with our new feature adorned with many more characters than standard emoji. Save Your ASCII Emoji and send them as GIFs in WhatsApp or any chat apps!
Download the FREE Kaomoji ☆ Japanese Emoticons app and access a whole new set of expressive features for your texts, messages, and social networks. Along with regular emojis, this app includes cat faces, monkey faces, dinosaurs among others!
What's more is that you can not only paste these but also share them with your friends with just one tap! This app has cute emojis to suit every mood: from the happy-go-lucky (such as sweat drops) to the thoughtful (such as question marks). Simply choose an emoticon you like – it will be automatically copied to clipboard and become available for use in text messages or wherever else you want.
Big Emoji helps you express your feeling in the newest and most creative way. Just one click enables you to send gif, stickers or an image. Bring more fun back into your text messages by expressing yourself with a simple click of this app. With 5000+ emoji available on Big Emoji, it is never boring again! The perfect small business marketing tool for social media campaigns.
Cute Emoticons, GIF, Stickers Keyboard is an emoji keyboard app with over 3 thousand free emoticons and stickers. Your phone will look amazing no matter who you're texting because of themes that make your keyboard custom and fun to use. With 150 languages the keyboard will work for any person, country or language in need!