Collective RPGs are games where players can collect and make a team of heroes to explore and have adventures. They can be played with friends, or solo, which makes them perfect for those days when you don't have time to play on your phone but still want some fun.
This list of the best new Android collective RPG games is perfect for anyone who likes to play a game that's not just about power and victory. These are some of the most fun, engaging RPGs on Google Play, so if you're looking for an app that will keep you entertained then this list is where you need to be!
Alchemy Stars: Aurora Blast is the latest in a long line of in-app purchase heavy games that have hit the app store. And, like many of its predecessors, it's a clone of existing games in the same genre.
In Auroria, you'll never find yourself bored with the vast array of characters available to you. With 150 talented artists on the development team, you're guaranteed to find a character that fits your personality perfectly. From the concept designs to the battle animations, each element of this game is breathtaking.
Not to mention, the voiceover work is top-notch and really brings the characters to life. Whether you're looking for someone to simply chat with or an exciting battle partner, you're sure to find them among the cast of Auroria.
Despite its generic appearance, the game is anything but normal. Battles can be either easy or hard, and even if you pay to win, there's no guarantee that you'll get better heroes or items. In fact, the game is more like gambling than anything else. So if you're looking for a fun and challenging SRPG, you're better off avoiding Alchemy Stars: Aurora Blast.
Step into the epic world of the Age of Magic and get ready for an adventure filled with battles, magic, and heroic characters. This turn-based RPG strategy allows you to build and customize your own party of heroes from different classes. Immerse yourself in a realm where war and magic intertwine through raid heroes and unique skill-based battles.
Growing your team is only half the battle; challenge other players in the PvP Arena each day and gain Epic rewards when you make it to the top of the 24-hour Tournament each week. Experience all that this virtual battlefield has to offer by joining forces with your friends in Alliance Wars.
So join today – legends are made, not born! Unlock hidden power and become a powerful wizard who will be remembered throughout the ages! Who knows, maybe one day you'll unlock untold wonders…
Genshin Impact is a collective RPG game that provides a massive open world full of breathtaking scenery to explore. Set in the world of Teyvat, players can traverse their way through interesting landmarks, unlock puzzles and explore secret decorations like strange mechanisms and Seelie scattered around Teyvat.
With certain special abilities, gamers can control seven distinct elements such as Anemo, Pyro, Cryo, Electro, and collectively more. Each element reacts differently against the other- experiencing Pyro with Hydro or Electro with Anemo will give you an upper hand in combat against monsters and on your travels.
With its collective element system- Genshin Impact's mesmerizing visuals and engaging gameplay have allowed it to become one of the most popular RPG games in the market. Whether it's unlocking puzzles or taking fights against enemies- Genshin Impact makes for an unforgettable collective experience!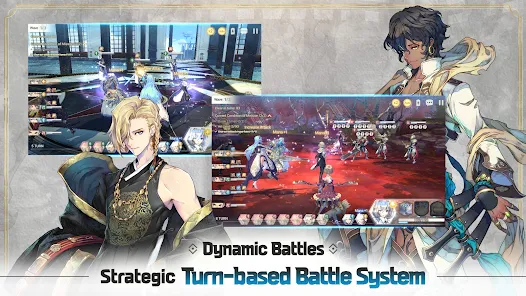 Are you looking for an exciting and adventure-filled fantasy RPG? Welcome to the world of Exos Heroes! In this stunningly beautiful game, fly across the ancient Airship as its captain and explore the lost ruins with your crew.
Get ready to search for lost treasure, battle powerful monsters, and take advantage of the unique Guardian Stone system to 'break' enemy lines. But that's not all — Exos Heroes has more than 250 heroes waiting to be collected, each with their own unique character design, abilities, and Fatecore.
With a strategic battle system like no other and captivating graphics that showcase a fantastical yet familiar fantasy land, you won't be able to get enough of this mobile RPG! So hop onboard the Airship — your epic adventure awaits.
AFK Arena is an exciting collective role-playing game that offers a vast range of options for players to explore. You will be able to summon over one hundred heroes belonging to seven different factions named Dimensional, Celestials, and Hypogeans – the rarest faction among them. To move up the ladder of success in this game, you must equip your heroes with skills, form powerful formations, strategize and implement unbeatable lineups.
Every faction has its own formation buff and enjoys certain advantages over other factions as well. This collective RPG consists of several missions set out for players to complete. Progress through the main campaign mode and fight off the evil Hypogeans from destroying Esperia or try beating your way through King's Tower mode.
With AFK Arena's Labyrinth mode you can challenge yourself to get as far as possible using just your relics. Furthermore, you have the classic PvP Arena mode where you can battle with other players around the world – they are waiting for you!