Another Voodoo mobile game release is here to stay! Crazy Kick! is a unique yet very addictive and authentic game designed for Android and iOS platforms. It is designed for those who love arcade football games.
The concept of this game is to aim the ball around a maze. The first few levels might just be easy peasy for you. However, don't be easily blinded by them. There are exciting but highly challenging levels you need to complete – all of which are intent at testing your focus, skill, and agility.
You should score many points as possible and make it to the end of the level. Read on our Crazy Kick! tips to help you out!
Master the art of ball controlling
Use soft, small moves if you want to twine cautiouslybetween gaps or goalies in the field. And if you want to go for a long goal, a huge swipe is the key! Avoid faster swipes because it will only lead to a harder kick.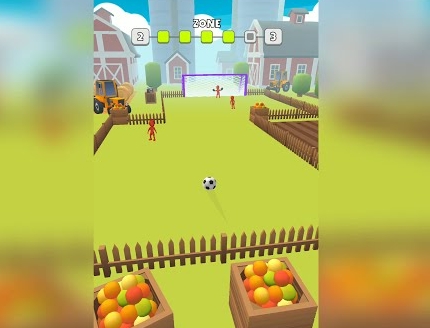 Do not retreat
Here, know the right timing. Sync your movements with those of your defenders. Move either to the right or to the left as soon as your opponent arrives in your direction. This will enable you to destroy the enemies and pile up the bonus points simultaneously.
Get additional points by dodging blockers
You get twenty-five points if you're able to make it in the goal. Get extra points if you become a bit cheekywith your blockers. A whopping ten bonus points can be acquired for every blocker you dodge.
Fake out the goalkeeper
This means baiting the goalies in case you're having a difficult time getting the ball in the goal and making a final shot. Upon approaching the goal, slow down and move to either side once you get close. Swipe back as fast as you can in the alternate direction. Kick the ball like a pro!
Jump over fences and holes
Powerfully swipe upwards to give the ball a boost it needs tofly over the obstacle. However, make sure that you always keep the ball under control. Make it swerve while flying by sliding your finger to the left or right hand side.
Aim for the glory
This is a long distance shot that requires an advanced skill, though even new players can master it with a little bit of practice. The concept is to avoid being surrounded or chased around by a pool of ball-hungry zombies. All you need to do is perform an energetic and fast swipe upward.
Stuck in the same level over again? Here's how
So, you keep landing on the same level repeatedly and want to progress. Just click the Skip button and watch an ad and your frustration would be immediately wiped away.
So, as you see, Crazy Kick! is not your average football game. Other than dealing withintercepting players and goalies, you also have to work your way around holes, pitfalls, shrubbery, and trees. Get ready for everything with these tips in mind!