Those interested in the epic loot can try new gear and be ready for the battle! The following step-by-step tips can be a help for them:
10 Tips for Beginners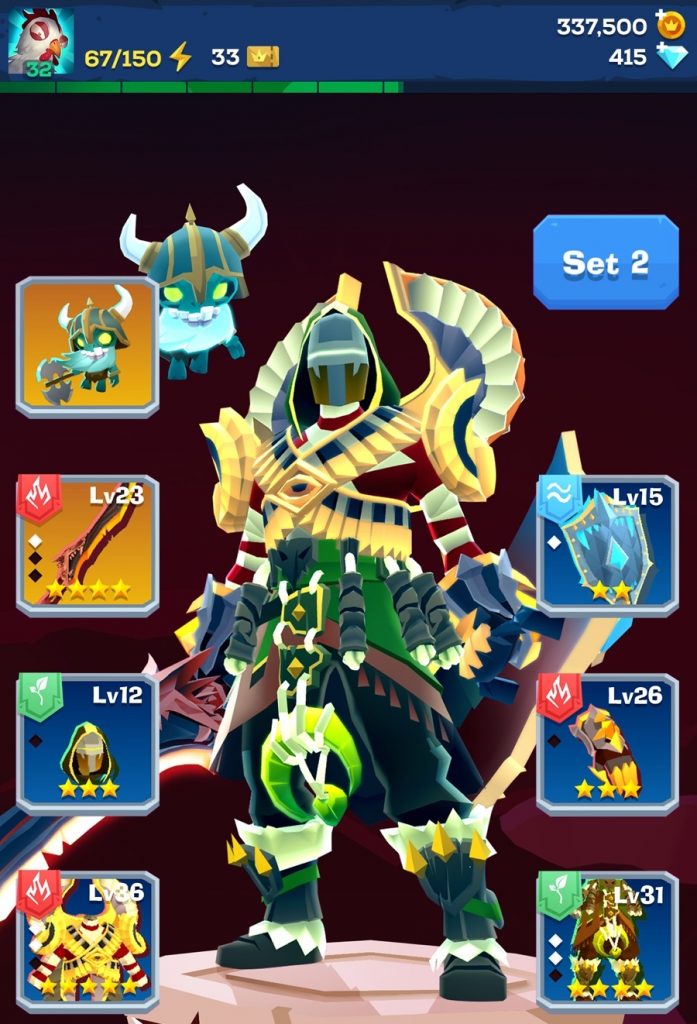 Elemental Gear Sets Need to Be Prepared – You have to be ready to explore exclusive elemental dungeons and unlock Level Nine. You will need to use your fire, water and other items to beat the dungeons.
Reach Level 30 First – You have to actually get to Hero Level 30 in this game. You can do this by learning the traps and tricks in every castle, and then crush the bosses to reach the required level. Focussing on Gear Strategy will help.
Save Promote Stones – To rank up a gear in this game, you need Promote Stones. These stones can be accessed in Dungeon Trials. You will need to get access to the gear of your dreams so that you can use the Promote Stones perfectly.
Try Everything Possible – You need to try every level or mode of the game. After levelling up to common gear, you can complete the normal difficulty level. You can try to fight a harder difficulty after getting enough level rating of Gear's Might. The more stuff you try, the more chances grow for you.
Give Attention to Combos that are Timed in PVP Arena – If you want to give competition to other players in this game, then you can do it in PVP Arena. You can try to time Combos for winning here. Timing the Combos helps a lot while fighting and hitting the opponents.
Do Your Best in All Seasons – Several events in this game are time-bound and you can win rewards for the same. Royal Shadows, Epic Pass, Inauguration Gifts are the popular seasons of this game and you have to give your best in every season to remain a hero.
Invest in Auto-Win Packs – You can buy the main items from Marketplace tab in the game. Auto-Win-Ticket-Pack is considered to be the best item. You should try to get twenty total tickets to complete the quests. You can put your gems to get some worthwhile purchases from shops.
Develop Four Character Sets that Are Unique – This is about developing different elemental gearsets to fight with elemental dungeons. Skills and Talents for gearsets vary. Shockwave, Venom Splash, Stun Layer, Axe Mastery etc. are some examples of the Skills and Talents used.
Finish All Three Challenges – Your main tasks throughout remain finishing the castle, killing all enemies and beating in the required limit. To maximize the acquiring on loot, you have to fulfil and prioritize all three conditions. While exploring every corner of stage, there is a possibility that you will get the hidden treasure chests and also the enemies that need to be defeated.
Complete Daily Missions – You can make your way through the main campaign and get several achievements. And before logging in into the new play session each time, you have to make sure that your Daily Missions are completed.
How to Get Epic Gear for Free
Without spending money you need to grind for lower gears which will be used as fodder to upgrade your better stuff.
Gears can be found in Chests which you can find in the Shop, accessed via the treasure chest icon on the game's bottom nav bar. There are 2 types of chests which require different resources to open
Rare Chest requires 5 Rare Keys or 20 Gems and contains 2 to 3-star gear.
Epic Chest requires 100 Epic Keys or 150 Gems and contains a 3 to 5-star gear.
How to Earn Free Gems
Clear a level or daily trial castle for the first time
Play Mighty Quest daily
Join current events