There are a ton of Android find the differences games available on the Google Play Store. Not all of them are worth your time, but we've compiled a list of the best new Android find the differences games that you should check out. Whether you're looking for something challenging or just want to kill some time, these games have you covered. So without further ado, here are our picks for the best new Android find the differences games!
Eerie is a fun spot-the-difference game that will keep you engaged for hours. In this black and white game, you will be assigned the job of finding the odd man out as a group of strange characters stroll across your screen.
If you have a keen eye for oddities and enjoy hunting them down to pass the time, Eerie is an entertaining game that's inexpensive, engaging, and pleasant to look at. With lots of levels to play through, you'll never get bored with this game.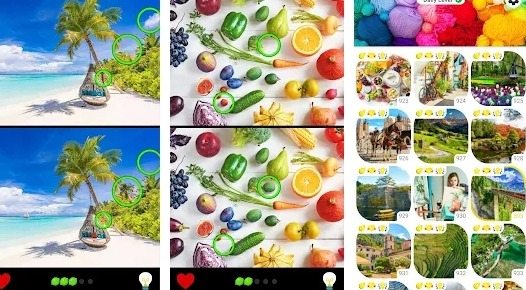 If you're looking for a challenging and fun-filled game to play, look no further than Find the Difference 1000+. In this game, your goal is to compare two pictures and spot the differences between them. But be warned – some of the differences can be quite hard to find!
And just when you think you've found all of them, you may discover there are even more hidden objects to search for. But that's all part of the fun! So get ready to sharpen your detective skills and see if you can find all the differences in each level.
With over 1000 levels to play, you're sure to be entertained for hours on end. The levels range from easy to hard, and there are pretty medals to collect as you progress.
This game is free to play and offers a variety of features that makes it one of the best games of its kind. For starters, there is no timer, so you can take your time and relax while you play.
Additionally, there are unlimited hints available if you get stuck, and the game is designed for both phones and tablets so you can play it on any device.
Have you ever been called a born detective? If not – why not challenge yourself to a spot-the-difference game? It's the perfect way to exercise your eyesight, relieve everyday stress, hone your aesthetic ability and relax. In the game, two pictures or illustrations will appear with very subtle differences between them.
You must use keen concentration and attention to detail to find those minute changes. Can't quite see where things differ? Don't worry; hints are available when you need help! Playing this puzzle game brings all sorts of great benefits – it trains your brain, challenges your vision, and increases patience.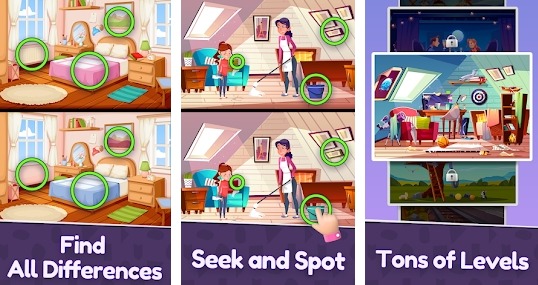 Differences game is a new and addictive game that is sure to keep you entertained for hours on end. With over 10,000 levels, this game is perfect for those who love a challenge. The best part about it is that there is no time limit, so you can take your time and relax while you play. If you ever get stuck, there are unlimited hints available to help you out.
With a zoom function to enlarge the pictures and tons of HD pictures of landmarks, landscapes, animals, foods, and more from all around the world, the game is engaging and offers new levels of difficulty to keep you challenged.
The events, such as the daily challenge and world travel theme, also add more playability to the game. Whether you are an adult or a child, this game is suitable for everyone.
Fun Differences is an exciting brain-teasing game with easy-to-learn but addictive gameplay. It offers over a thousand levels filled with exciting challenges, tasks, and pictures that you need to explore in order to progress. Every new level is designed to tease your brain and test your ability to spot differences between two seemingly similar objects. What makes this game even more attractive is its ongoing tournaments, leaderboard with real-time updates, and no ads or any mandatory payments! Plus, Fun Differences rewards players for completing each level with daily bonuses!
However, some of the most difficult levels can be extremely challenging. To help you out, you can make use of special clues. Once you use up the free clues offered for each picture, you can purchase additional ones by spending crystals which are minted by completing different levels or found within free chests available in the game. If that's not enough, why not try breaking open the piggy bank and get your hands on more crystals?