Golf is one of the most popular sports. You can grab the clubs, hit the course, and have some fun, of course on your mobile.
If you want a game that combines Getting Over It with a golf game, you don't need to wait for anymore. Golf Up offers just that, and it's fantastic.
Golf Up is the golf game that sends your ball soaring to new heights! Just make sure you avoid the obstacles in your way. With realistic physics and challenging levels, this game is a true test of your golfing skills. So grab your clubs and see how far you can go!
Packed with thrilling challenges and addictive gameplay, Golf Up is the perfect game for anyone who loves a good golfing adventure. Take on courses that snake their way to the top of treacherous platforms, avoid wicked obstacles, and persevere through intense challenges to become the king of golf!
The developers of this game have gone all out to make it accessible and free-to-play friendly for new users, but there are ads. You can pay if you want them removed though! It's perfect because anyone who tries before buying has enough time with which he/she may experiment without having committed themselves just yet.
For serious golf players, WGT Golf delivers an incredibly realistic game on the go. Adventurers can compete head-to-head with friends and other players in multiplayer games, complete full 18-hole stroke play, or challenge others in the quick 9-hole closest-to-the-hole golf games. Don't miss out on the Topgolf mode too – compete with up to six players, hitting targets in the field for points.
There is also a range of free tournaments including the Virtual U.S. Open, WGT Virtual Tour Championship, and many more! With virtual golf equipment such as drivers, woods, hybrids, irons, wedges putters, and balls – you'll have plenty of options to choose from when selecting your shot type.
If you want to explore the world of miniature golf with a hint of sandy surrealism, then Desert Golf is your ticket. This minimalist game is all about golfing in a visually stunning desert setting that's brimming with mystique. Even though it uses simple colored blocks to represent hazards and tee boxes, the vast expanse of sand makes you feel like you're gaming on a galactic scale.
And then there's the sense of wonder you get from seeing those tiny rock outcrops juxtaposed against an eternal sky – it's something that words can hardly begin to describe. Fall under Desert Golf's trance-like spell as you swing your way through each course, taking in its tranquil stillness while savoring every moment of its peaceful beauty.
Golf is a sport that has been around for centuries and is enjoyed by people of all ages. It is a sport that requires precision, skill, and concentration. The game of golf is also one that can be very frustrating at times. However, when you finally perfect your swing and hit that long drive down the middle of the fairway, there is no feeling like it in the world. Perfect Swing is a golf game that captures all of the excitement and frustration of the sport.
In Perfect Swing, you can compete against other players from all around the world in real-time multiplayer games. You can also experience over 90 beautiful holes of golf in Career mode. And if you're feeling competitive, you can take on a ten-day PVP tournament.
Golf Clash is an incredibly engaging multiplayer golf game that allows players to have a quick-fire 1v1 real-time experience from the comfort of their homes. Players can test their golfing skill, accuracy, and strategy all at once with a revolutionary shot system that is easy to learn but difficult to master. Players can also traverse through a variety of courses that are continuously being added each month as they raise the stakes in their games.
Those who are successful can eventually earn club card bonuses through weekly leagues or even prizes when they show off their deadly shot accuracy. Players can further enhance their gaming experience by unlocking new clubs and balls that give them power, accuracy, spin, and curl features. If this wasn't enough already, remarkable shots can be saved and shared with friends while chat and emojis allow you to banter with your opponents during the game!
For golfers all over the world, playing on their favorite courses has never been easier or more fun! With Golf Master, you can compete in real-time stroke play against other players or enjoy a 1-on-1 game with your friends and really see who swings the clubs better.
The smooth, simple controls make it easy to learn the gameplay while progression through different and more challenging courses continues to raise the stakes. Plus, when you're ready to think big, there are always special tournament rounds waiting for you as well as mega prizes so that you can be crowned the golf champion and celebrated forevermore!
If that's just not enough, you can even customize your own golfer while packing special power-ups into your bag. And the best part of it all is that no matter where you are or who you're playing with (or against!), stunning 3D graphics ensure an ultra-realistic 3D physics environment so that every shot looks great no matter what!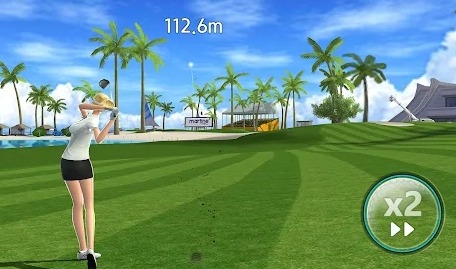 If you're looking for the most realistic golf experience available, look no further than Golf Star. Featuring stunning graphics that rival real-life courses, Golf Star transports you to the green as no other game can. But it's not just about looks – with gameplay powered by real physics, Golf Star challenges you to master the same techniques used by professional golfers. And with online play available, you can tee off against golfers from all over the world.
The game has captured the skills and techniques of real-life pro golfers, so you can become a pro golfer yourself and choose from up to 15 different techniques, including draw shots, fade shots, and chip shots.
In Multi-Mode, you can enjoy golf battles against rival players from all around the world in real-time. In Single Mode, you can complete various missions and become a better golfer.
And in World Championship mode, you can participate in the weekly World Championship Match and claim victory to win awesome rewards!
The PGA Tour Golf Shootout is an exciting golf game perfect for casual players who are looking to enjoy a relaxing round of golf without too much fuss. Whether you're playing solo or competing against your friends, you can play on 12 different real-life PGA TOUR golf courses and over 85 holes, giving you plenty of places to practice while trying out your skills.
Plus, smooth and simple controls make it easy to learn how to play quickly, so even the most inexperienced of golfers can soon be mastering their moves. If you're looking for something more than just the basics, then look no further!
With over 50 collectible clubs featuring unique statistics and abilities that can be unlocked and upgraded, there is plenty here to keep even the most seasoned players entertained. And with daily challenges and rewards offering something new to unlock every day, this is never a dull game!